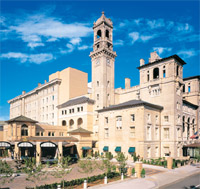 It's almost the stuff of spy movies.
Events leading to one of the largest individual copyright infringement cases in the United States began in a secret meeting at the Jefferson Hotel.
Last week, a jury in U.S District Court in Alexandria awarded Jordan Fishman, owner of Florida-based Alpha Tyre Systems, $26 million in damages resulting from the illegal copying of Fishman's plans for specialized tires used on underground mining vehicles.
In June 2005, Sam Vance, a former employee of Fishman's, met two representatives from Dubai-based tire distributor Al Dobowi in the lobby of the Jefferson Hotel in downtown Richmond. There, according to court documents, they hatched a plot to use Fishman's proprietary plans for their own gain.
From the original complaint:
Vance specifically offered to provide Al Dobowi with Alpha's customer lists, pricing information, customer databases and–most importantly– the proprietary blue prints drawn by Fishman necessary to make molds of Alpha's highly specialized tires.
After the Richmond meeting, the three men traveled to China to find a manufacturer. They cut a deal with the billion-dollar Shandong Linglong Rubber Company, who along with Al Dobowi were defendants in the case.
The case continues:
Vance began working for Al Dobowi in the summer of 2005 from his office in Tazewell, Virgina. From his Virginia office, Vance communicated with Al Dobowi and LingLong employees about forwarding Plaintiff's blueprints of the tire designs from which molds were made. By late 2005, Vance provided both Al Dobowi and LingLong with a full set of the Plaintiff's drawings.
By the end of 2006, Linglong and Al Dobowai were producing copies of Alpha's mining tires and stealing its customers.
Fishman previously sued Vance in Florida and won a judgment of $59 million dollars for wrongful conduct. Vance had appealed, but according to the latest suit he has fled the country and resides in China.
In the latest suit, Fishman was represented by D.C.-based Gilbert LLP.
"This case should serve as a bellwether for foreign multinational corporations who believe they can act with impunity, stealing intellectual property from a small U.S. business, and then avoid the reach of our judicial system," said lead counsel August J. Matteis, Jr. in a statement.
The case does not say what the parties ordered while eating at the Jefferson.