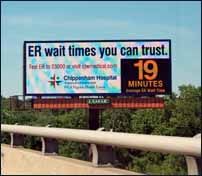 The average wait time at Virginia emergency rooms was more than 4 hours, according to a recent study.
Virginia had the 13th highest average ER wait time in the nation in 2009, according to the Emergency Department Pulse Report: Patients Perspectives on American Health Care released late last month by Press Ganey Associates, a health care consulting firm. The study evaluated 1.5 million patients treated at 1,893 hospitals across the country.
The state with the best average was Iowa where  the wait time was 2 hours and 55 minutes. The worst was Utah, where you'll need to spare an entire work day for a trip to the ER with an average wait of 497 minutes or more than 8 hours.
The study did find that ER patient satisfaction remained stable, though it has been affected by the loss of jobs, loss of insurance and overcrowding resulting from the recession.
Other interesting tidbits in the study: the most satisfied ER patients were seen between 7 a.m. and 3 p.m. And Saturday was the best day of the week for ER patient satisfaction. Monday was by far the worst.
See the full report here.