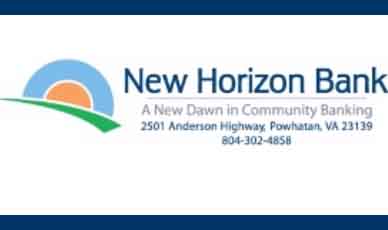 There is a figure that jumps off the pages of New Horizon Bank's second quarter financial reports.
It's zero, and it's a rarity among banks these days.
As its more established competitors grapple with hundreds of millions in non-performing loans, 10-month-old New Horizon has a luxury most other local banks don't: It's working with a clean slate.
"As we say, we don't have any distractions," said New Horizon President and CEO Jimmy Keller.
Because it's so new, the bank has not a single dollar's worth of impaired loans, leaving it free to search for new business.
"We do have a clean slate," Keller said. "We hope to keep it that way."
New Horizon opened in October. It was started by defectors of the former Bank of Powhatan who left as it was being acquired by the parent of Essex Bank.
Keller led the move and raised $9.1 million to get the bank off the ground. After 10 months in operation, the $17 million bank has one branch in Powhatan and 11 employees.
That clean slate, of course, is a function of loans having only been on the books for a few months. Loans typically don't fall into past due or non-accrual status for at least two years.
Keller is hoping New Horizon's slow and steady approach to growth will keep its loan portfolio healthy.
"We're just taking a very steady path as far as growth," Keller said. "What has gotten banks in trouble is rapid growth and loan concentrations, particularly in commercial real estate."
New Horizon lost $221,000 during the second quarter. Most banks don't reach profitability until at least their second year in business. Keller said the aim typically is to make it into the black somewhere between the 24th and 36th months. The bank has about $7 million capital remaining.
Its loan portfolio has grown to $11.2 million, up almost $4 million since the first quarter. It has $9.6 million in deposits, up from $6.8 million in March.
New Horizon is competing with five banks in the Powhatan market, including Village Bank, Wachovia, Central Virginia Bank and Essex Bank.
"Loan demand is steady in some cases because other banks' buckets are full," Keller said.
He said New Horizon has seen a mixture of commercial real estate loans, commercial industrial loans, working capital for business, consumer lines of credit and loans for residential development.
The young bank has no plans for another branch at the moment, Keller said.
The bank is open to public investors but isn't traded on any stock market. It has about 275 investors. And when new investors come calling, he tells them the same slow but steady story.
"If you are looking for something flashy, we're not it."
Michael Schwartz covers banking for BizSense. Please send news tips to [email protected]