A local credit union can now more easily expand its customer base.

Call Federal Credit Union, the area's second largest credit union, said this week that it received approval from its national regulator to offer membership to anyone who lives, works, worships, attends school or volunteers in the city of Richmond or the counties of Henrico, Hanover and Chesterfield and their family members.
In other words, everyone and their mothers – or about 800,000 people, according to Call CEO Roger Ball.
"That is going to give us a great deal of potential," said Ball.
Many credit unions are bound by narrow charters to offer membership only to a certain group of people, often employees of certain companies, those in specific low income census tracts or religious organizations.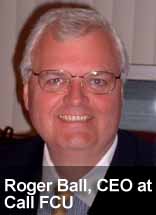 But a greater number of credit unions have sought community charters that enable them a broad geographic base of membership to go after and at the same time to step all over the turf of community banks.
Call Federal Credit Union is now the fourth credit union in the Richmond area with a community charter. The others are Connects FCU, Dupont Fibers FCU and Partners Financial FCU.
Others, such as Peoples Advantage FCU, can go after anyone in Prince George, Dinwiddie, Chesterfield and Sussex counties and the cities of Petersburg, Hopewell and Colonial Heights.
Banks particularly hate the fact that credit unions are tax-exempt.
"Clearly, it's disturbing," said Keith Leggett, chief economist and resident credit union watchdog at the American Bankers Association. "What is occurring is these guys are basically in direct competition with banks for the same customers offering the same services. At some point in time, this has to raise questions about the legitimacy of their preferential tax treatment."
Since 2000, more than 800 credit unions have been granted community charters, according to the National Credit Union Administration.
What's more worrisome to the banking industry, Leggett said, is that the average size of the communities these credit unions are targeting is also growing.
Ball, a 30-year veteran of the credit union and banking industry, is well aware of the animosity between the two sides on this issue of expansion without taxation.
"We do compete with them," Ball said. "But I always believed there is a niche for all of us. There's room for all of us to have a very successful business plan."
The credit union tax exemption comes along with limitations. Credit unions are bound to use what they don't pay in taxes to offer more competitive rates and fees than their for-profit counterparts.
Credit unions also have limitations on how much they can lend in certain segments, particularly commercial lending, and are limited in how they can invest their assets.
"I don't think we are equal yet in our opportunities," Ball said of those critics that say credit unions are beginning to look more and more like banks.
Call has $340 million in assets, 31,000 members, four branches and 68 employees. Prior to receiving the community charter, it served only select employee groups and the city of Richmond. It was chartered in 1962 to serve Philip Morris employees.
Despite its newfound ability to expand its membership, Ball said his credit union has no plans for new branches.
"We have positioned ourselves physically where we can have a presence pretty close to the homes of our members," he said.

Michael Schwartz covers banking for BizSense. Please send news tips to [email protected].