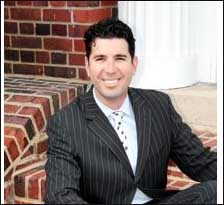 Richmond developer Justin French is still in Richmond City Jail after being arraigned on nine felony counts this morning.
French was arraigned over a video link at the jail. He is charged with four counts of forgery and four counts of uttering false documents. He is also facing a charge for writing a bad check for greater than $200.
The General District Court judge set a bond of $150,000. French was released on bond at about 2:30p.m. Monday. The clerk said French will participate in pretrial probation. French's attorney is W.R. "Bill" Baldwin III.
The preliminary hearing will be held November 2 at 11AM with Judge Philip Hairston presiding.
French was arrested by State Police Friday at Richmond International Airport. You can read more about that, and the events leading up to his arrest here.
Stay tuned for more details as they develop.