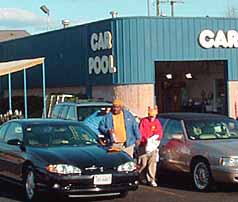 Richmond-based Car Pool Car Wash plans to open its eighth location by the end of the year in Short Pump. Construction has an expected completion date in early December.
CP Other Realty LLC purchased the 1.68-acre site at 11950 West Broad St. in the Towne Center West development on behalf of Car Pool for $1.48 million from Kalyan Plaza at Short Pump LLC, according to public records. Actual construction costs for the car wash building and customer lounge total just under $634,000.
A new restaurant is coming to the same shopping center, just behind the Car Pool site, next to the Hilton Richmond Hotel & Spa. Osteria La Giara has leased space in the same building as Far East Bistro and has applied for an outdoor dining permit with Henrico County, hoping to offer a 270-square-foot fenced patio.
Also heard on the street, the famous "Hot Doughnuts" sign could soon be glowing in the Far West End. Krispy Kreme is scouting locations for a store in Short Pump, according to real estate sources. Among the spaces the chain is looking into is The Corner at Short Pump, where a 92,000-square-foot Kroger opened late last month.
The store would be the second doughnut shop in Short Pump. Daylight Donuts opened in June.