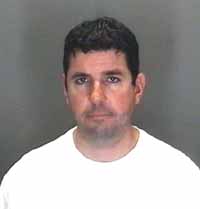 Richmond developer Justin French was released from Richmond City Jail on Monday shortly after being arraigned on nine felony counts. He spent the weekend in the City lockup.
General District Court Judge Philip Hairston set French's bond at $150,000, which was posted about 2:30 p.m. Monday.
French faces four counts of forgery and four counts of uttering false documents. He also faces a charge for writing a bad check for more than $200. A state police special agent arrested French early Friday morning at Richmond International Airport.
French's lawyer, W.R. "Bill" Baldwin III, did not respond to requests for comment from BizSense. French could not be reached.
The developer is scheduled to return to court Nov. 2 at 11 a.m. As part of his bail agreement, he cannot renew or obtain a passport or possess any firearms.
According to the arrest reports, the alleged forgeries took place on four separate dates: March 20 and Oct. 27 of 2009 and April 29 and May 21 of this year.
The charge for the bad check stems from a check French wrote May 21on a closed First Market Bank account. The $2,677 check was written to Paul's Place, an architectural salvage shop in Northside.
Neither the state police nor the attorney's general office would reveal what documents French is accused of forging.
Over the course of several years, French has used millions of dollars worth of state and federal tax credits to secure financing for his historic real estate renovation projects. A BizSense investigation found instances in which French's claimed expenses for renovations were more than twice the normal rate claimed by other developers who work on similar projects. (You can read more about that in an RBS story here.)
Several of his recent applications to receive credits for completed projects have been frozen by the state Department of Historic Resources, which has been working with the FBI and IRS in an investigation.
The attorney general's office denied a Freedom of Information Act request for those applications, citing an ongoing investigation.
Al Harris is a BizSense reporter. Please send news tips to [email protected]