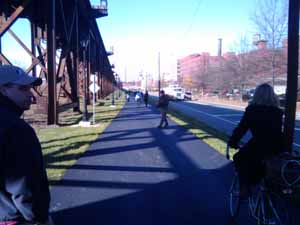 Every year, Richmond becomes a better place to live, and the pace of improvement seems to be picking up, too. Despite the lousy economy, developers keep turning shuttered factories into sleek apartment buildings, and restaurateurs keep opening in new places, despite the odds against them.
The city has debated lots of big investments, such as a new arena or baseball stadium. But a handful of much smaller changes could pay off big time and piggy-back on the dreams and gumption of all the entrepreneurs working in downtown Richmond.
In a recent article in the Richmond Times-Dispatch, Publisher Tom Silvestri recommended changes around the convention center that would make the city more appealing to conference attendees. The word "sidewalk" appeared multiple times throughout the article. Stadiums and fast trains move a city forward, and those plans keep hope alive for the long term. But why not start small, with inexpensive projects proven to generate big returns? That's the kind of low-hanging fruit business people love to pick, right?
Sidewalks, bike lanes and separated trails are the best small investments a city can make. And in Richmond, they would add oomph to the existing momentum. Of course, I am involved in promoting just such an amenity. For the past three years, I've been involved with the Virginia Capital Trail, which now has a paved section in Shockoe Bottom that will eventually connect Richmond to Jamestown.
Here's why I am so bullish on the value of our trail and the overall mindset of making small but powerful upgrades: Give a city a couple of amenities that make it fun to linger somewhere, and you've started improving the community. New York found that when they placed bike racks around the city, people used them whether or not the location was on a bike route. Just having a place to park encouraged riding, which in Richmond means more people downtown. So let's install some bike racks. The Project for Public Spaces, an agency that is transforming cities all over the world, studies what happens when tables and chairs are located on sidewalks or plazas. They found that people sit in them. And when more tables and chairs are made available, more people sit there. Instant vitality for a few thousand dollars.
Richmond has plenty to draw people to the region. But finding ways to gain more economic benefit from their visit requires making them want to stay and play for a while. Again, it doesn't require tens of millions of dollars.
Portland, Ore., discovered their entire network of 300 miles of bicycle and pedestrian infrastructure equaled the cost of building one mile of a six lane urban interstate. It's hard to say whether one mile of interstate can generate $63 million annually in economic activity like Portland's bike and pedestrian infrastructure does. It's not a stretch, however, to think they would need a few more miles of it for drivers to have somewhere to spend their money.
Virginia has its own success stories. The W&OD trail in Northern Virginia, a 45-mile trail from Arlington to Purcellville, attracted 1.7 million visitors in 2004, with locals spending an average of $10 a day and non-locals spending $17 a day. The math is easy. The same study found that the Virginia Creeper Trail attracted 130,000 annual visitors to Damascus, Va., with average spending for day trippers at $17.16 per person per trip. Overnight users spent $82.10 per person per trip. In analyzing where this money was spent, 40 percent went into accommodation and food services, 20 percent went to entertainment and recreation. Again, millions of dollars a year and new jobs because people found it fun to move around Damascus without their cars.
Yes, let's hang onto our 10- and 20-year plans and make sure we stay the course on the big things that will help Richmond reach its potential as a thriving, high quality place to live. But let's go ahead and move some small efforts to the top of the priorities, little amenities that have proven to be safe investments, so we can start seeing big improvements in the short term. Even if you will never use a bike rack or walk on the Virginia Capital Trail, as a resident of the area, you will benefit from those who do.
Beth Weisbrod is the executive director of the Virginia Capital Trail Foundation.