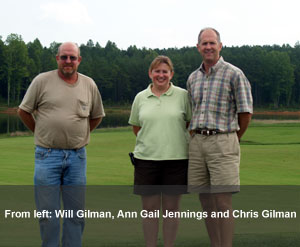 As Ashland businessman Chris Gilman takes cell phone call after cell phone call, the fax machine spits out documents that fall to the floor. The walls are bare, and the desk contains only a laptop. An old set of golf clubs sits propped against the wall.
It's from this office in a converted barn that Gilman is planning to turn around a deeply troubled golf course.
In a BizSense exclusive, Gilman talks about how he's going to right the ship at the struggling Federal Club.
Below is an edited transcript.
Richmond BizSense: Do you play golf?
Chris Gilman: I haven't played in two years.
RBS: What's your plan for the club?
CG: It was being operated at less than peak conditioning, and we are addressing that.
We've invested in chemical treatments to return the course to the best it can be. We want to add tennis courts and eventually some workout facilities. We've also purchased a new fleet of golf carts and new turf equipment. We're going to fix the bunkers.
RBS: Have you thought of switching to Bermuda grass, which is much cheaper to maintain?
CG: No. That would devalue the course. The members pay for bent grass.
RBS: How about the business of the course?
CG: We will not make a profit this year, and not next year. We are going to continue to allow public play and eventually want to cut that out for weekends and then weekdays, eventually.
RBS: What are you going to do differently than the previous owners, who built the course but never turned a profit?
CG: Well, first we don't have their same level of investment. [Gilman paid $2.65 million for the course and undeveloped lots; the previous developers borrowed more than $8 million]. We don't have even a fraction of their debt.
RBS: How many members do you need?
CG: Around 250.
RBS: What are you at now?
CG: I'm not exactly sure. Maybe around 155. But we have had some resignation since the bankruptcy filing and the closing. We expect to see some more trickling out of membership because we cannot guarantee a fully private club. When we hit maybe 250 or 300 members, we will go private again.
RBS: There is a glut of courses in Virginia. Several others have entered Chapter 11, and most private courses are struggling to find new members. How are you going to fight that?
CG: We cannot compete to lure that much public play, and we don't want to. Right now, I am just focusing on one new member at a time. The economy does not allow us to fix this thing quickly.
RBS: Let's talk a bit about the deal itself. How were the negotiations?
CG: Frustrating, but this was new territory for me. The bank tried to add different terms part-way through. The bank asked for free rounds of golf, and we agreed to that. But, really, it closed quickly. And we needed it to. The bank wasn't maintaining the course, and every day that went on without us taking control, we were losing credibility with our new members.
RBS: Why would the bank want to put in free golf?
CG: It was a certain number of rounds so they could entertain management and clients.
RBS: What was your thought process on taking all this risk right now in an industry you've never been in?
CG: I think – I hope – I got a good value. We think we can attract additional membership and build the golf entity and the real estate development.
RBS: Will you be building houses?
CG: No, we are not homebuilders. We would like to sell the lots.
Aaron Kremer is the BizSense editor. Please send news tips to [email protected]