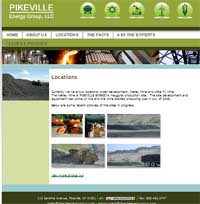 It didn't take a local ophthalmologist long to start second-guessing his $800,000 investment in a fledgling Appalachian coal mining operation.
The story begins in August 2008, when Askshay Dave received an email from Gary "Bud" Richard, a local social acquaintance, offering a "once in a lifetime opportunity."
Three days later, Dave, who has a practice off Bremo Road, cut a check to Pikeville Energy Group for $800,000, according to a civil suit filed recently in Richmond Circuit Court.
Dave appeared to have gotten the willies barely a month later and asked for his money back.
That began a process that after two years has culminated in a lawsuit against Richard, Pikeville and another entity, claiming several counts of fraud, breach of contract, violations of the Virginia Securities Act and that Richard allegedly used the money for his personal benefit.
That enticing email (which you can read here), which was included in the suit, began with Richard saying he was only sending the message out to a limited number of "higher net worth contacts that might be interested in what I truly feel is a once in a lifetime opportunity and will yield returns of 30 percent to 43 percent annually."
Richard also asked that the contents of the email be kept highly confidential "as I really do not want word getting out in Richmond, nor do I want to offend anyone that I did not include in this opportunity."
He explained his involvement in a startup coal mining operation with a company out of Kentucky called Pikeville Energy Group,    which needed investors immediately because it couldn't obtain conventional financing.
The email included an investor presentation complete with income projections, photos of coal mining sites and mining equipment.   Pikeville was formed, according to the investor presentation Dave received in the email, to secure property, mineral rights and equipment related to coal mining. Pikeville would also eliminate risk by contracting with outside parties to do the actual mining.
Pikeville would then buy the coal mined by its contractor, Blackberry Energy LLC, for $64 per ton. The investor slide show said Pikeville could then sell the coal for around $127 per ton. Richard even showed he was personally vested in the venture and said he had been using cash from his other company, Massachusetts-based Banner Industries, to fund Pikeville's operations.
"I am in this for more dollars than I'd care to mention right now, but we are turning the corner and all is going extremely well," Richard said in the email.   Then came the urgent call to action. Richard needed investment money within one week.
Dave complied with the request, the suit claims.
The suit states: "The rosy projections and seemingly secure profit stream naturally peaked (sic) Dave's interest."
On Aug. 29, 2008, Dave agreed to loan Pikeville $800,000 in exchange for a 2 percent interest in the company. The loan was to pay 24 percent interest that would come from royalties of $1.50 per ton of coal produced by the operations. In all, Dave was to receive a total payback of $2 million within three years.
Sounds like a pretty good deal, except that, according to the suit, Pikeville and the entity it supposedly had a contract with to mine the coal has ceased all coal mining operations by January 2009 – just five months after Dave cut the check.
A call Monday to Pikeville found that the company's number has been disconnected. Pikeville was also dissolved by the Kentucky Secretary of State for failing to maintain a registered agent.
A message left at Richard's office in Massachusetts was not returned. The voicemail on his cell phone was full. There was no response to an email sent to his personal address.
Dave first asked for his money back after he didn't receive a promissory note or royalty agreement in writing as he was allegedly promised. A promissory note was eventually drawn up, but a royalty agreement was never received, and the suit claims Pikeville didn't have the authority to make such a promise.
The suit also says that the profit margin Richard and Pikeville claimed in the investor presentation was nowhere near what they would actually bring in.
By December 2008, having not received a single payment, Dave wanted to know where his money had gone. The suit says he eventually was told that Richard put the $800,000 into Banner Industries, leading Dave to believe it was being used for Richard's personal benefit. By that point Dave had sent a notice of default and wanted the entire $800,000 plus interest paid back immediately.
In June 2009, Richard said under oath that Pikeville was in default and had no ability to make payments on the loan.
Dave's attorney, David Spiro of Hirschler Fleischer, would not comment without permission from his client to do so.
"The facts [in the suit] speak for themselves," Spiro said.
Michael Schwartz is a BizSense reporter. Please send news tips to [email protected]