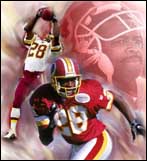 An NFL Hall of Famer is the latest to emerge claiming he is owed money by troubled developer Justin French.
Redskins star Darrell Green got into real estate after leaving the NFL and runs an investment group called Rostormel Financial. Green's company filed suit in Richmond District Court seeking $1.43 million for balances due on two promissory notes.
Messages left at Green's office were not returned.
In November 2007, the two notes were transferred to Rostormel from Superior Mortgage Corporation. Both were personally guaranteed by French.
The first loan was to French-owned Church Hill Properties in the amount of $1 million. The note was secured by a deed of trust on 316 East Grace St. The second note to 614-620 North 28th Street LLC was also for $1 million. Both had an interest rate of 12 percent.
Both are residential properties, and foreclosure is underway on both.
In October 2009, the due date for both was extended to April 1, 2010. The interest rate was cut to 6 percent. The 28th Street note was modified to a principal amount of $483,731.64.
According to the suit, the loans are overdue. The suit charges French with breach of contract and breach of obligations.
Rostormel is represented by Samuel Kaufman of Owens & Owens PLC.
Al Harris covers real estate for BizSense. Please send news tips to [email protected]