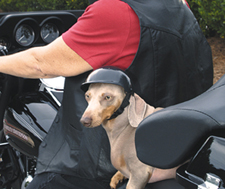 How's this for a customer's testimonial of a Richmond-based manufacturer and retailer: One fan found the product after getting pulled by a state trooper while riding a motorcycle with her dog on the Jersey Turnpike. The officer wrote her a ticket for having a passenger without a helmet.
Now she abides by New Jersey laws, with her dog wearing his own helmet made by West End-based Zoomer Gear.
"I wanted my dog to ride with me because he loves it," said Kay Tabor, co-founder and owner of Zoomer Gear.
"I felt like he needed a helmet to ride, but there weren't any out there, so I ended up making my own," she said.
Since 2004, she has sold thousands of pet helmets, which retail on her site for $26.95. The helmets are available in four sizes and three colors: Bone White, Wet Nose Black and Panting Pink. So far this year the company has generated more than $30,000 in sales.
Several years ago, Tabor set out to make a helmet for Zoomer, her fawn-colored dachshund. She fashioned the prototype from a hand-carved Styrofoam ball, adding straps and pads to attach to her pooch's head.
While riding in Florida with her partner Stephen Phillips, Zoomer's doggie helmet became an instant attraction.
"Everywhere we went, people were hollering to see it and take pictures," Tabor said. "More and more people surrounded us, literally stopping traffic."
After that, she and Phillips, who passed away last year, decided to launch a business to bring the dog helmet to the masses.
Today the helmets – which cats can wear, too – are made in a Minnesota factory from ABS plastic and shipped across the United States and around the world to countries including France, Germany and Sweden.
The shear existence of such a product raises a question: How exactly does a dog ride a motorcycle?
"Everybody does it different," Tabor says. "A lot of people have carriers, and a lot of people have sidecars."
As for Zoomer, he rides in a custom harness that lashes him into the seat.
The popularity of Tabor's product among Harley-riding dog lovers has spawned a second career for the former marketing professional — she had recently retired from the Martin Agency prior to launching Zoomer Gear. She worked there for 14 years and helped develop the ad firm's telemarketing department.
Despite a background in marketing, Tabor said she has done little to no advertising. Her company has grown through word-of-mouth and Internet searches.
"We started this as just something to do for fun," Tabor said. "We really weren't and still aren't into being in the PetCos or PetSmarts. It was just a small little business to fill our time."
A female construction worker from Texas found Zoomer Gear after her supervisor said she couldn't bring her Pomeranian to the jobsite because it didn't have a hardhat. After receiving a pink helmet from Tabor, she brought her dog back to work, this time with thumbs-up from her boss.
Tabor also said many of her customers have dogs that are blind, have experienced head trauma or have soft spots on their skull that need protection.
And although the economy has tightened purse strings from coast to coast, it hasn't stopped pet owners from spending freely on their furry companions.  Sales of pet products are estimated to exceed $45 billion this year, according to the American Pet Products Association.
"The economy really has not affected sales for the helmets," Tabor said. "Each month we do more than we did the month before."
Tabor said sales are about the same this month as they were last year. It doesn't hurt that her only competitor is based in Japan and sells their helmets for about $125.
Even though cost of manufacturing continues to climb along with the cost of fuel and petroleum, Tabor said she has done everything to keep the price where it is.
"We didn't do this to become millionaires," Tabor said.
"A lot of places are going out of business and myself I have cut back on spending," said Tabor, "but it doesn't seem to affect people and their pets."

Al Harris covers startups for BizSense. Please send news tips to [email protected]