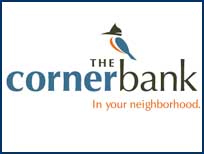 A local bank wants to completely reinvent itself.
On Wednesday, Virginia Business Bank disclosed its plans for a complete overhaul of its brand and business model and its hopes to raise capital and to become a retail banking business on the Eastern Shore.   And if all goes as planned, the Virginia Business Bank name will be reborn as the Corner Bank, an Eastern Shore-based community bank that will also do business in Richmond and Hampton Roads.  
"It's a reset of our existing bank," said Mark Hourigan, chairman of VBB.
But that plan, which for calls for opening nine branches and doubling the size of the bank by 2015, hinges on raising capital. The $148 million bank is aiming to raise at least $20 million, and it thinks it can get there by the end of the month through an offering both to its 400 existing shareholders and to the public for $2 per share.
And the bank is attempting all this while under written agreement with state and federal regulators.
VBB has been pondering a possible reinvention since entering into the agreement a year ago after it was hampered by non-performing commercial loans and dwindling levels of capital. A change in business model was necessary because that agreement prohibited the bank from making new commercial loans, thereby all but killing its business model and its flow of income. The bank has lost $2.7 million so far this year.
Led by its loyal board, the bank set off in search of a way to salvage what it launched in 2006.  The new focus on the Eastern Shore became part of the plan when the bank hired Scott Harvard as a special adviser. (You can read an RBS Q&A with Harvard here.)
"We looked at every conceivable option," Hourigan said. "We talked to a lot of people near and far."
Harvard is a Richmond native who built Shore Bank from the ground up to one of the biggest banks on the Eastern Shore before selling it to Hampton Roads Bankshares a couple of years ago.  Harvard's connections to the Eastern Shore banking scene run deep.
Harvard and VBB believe there's still a ripe market there for a locally operated bank, with the help of Harvard's connections, to gather deposits, fund loans and generate income. That income will then allow the Corner Bank to go after more business in the larger and highly competitive Richmond and Hampton Roads markets.
Harvard has brought on a team of consultants from the Eastern Shore and bank's board will be manned with five new directors from there as well.
"We have a team ready to go on the Eastern Shore," Harvard said.
Harvard will become CEO of the Corner Bank if and when it reaches its $20 million capital raise threshold.
VBB has already gone through three leaders since its inception. The Corner Bank plan calls for VBB's current top dogs, President Jordan O'Neill and CFO Geoffrey Warner, to remain in those positions.
"We're hopeful that they'll all stay with us," Hourigan said.
As for working its way out of the regulatory agreement, Hourigan said state and federal regulators have said the bank has met all the requirements of the agreement, with the exception of raising capital.
The bank will have its next regulatory examination in December and hopes to have the new capital by then.
"There's a high likelihood if we have the capital in hand that the agreement gets lifted," Hourigan said.
Although it hasn't been able to fund any loans over the past year, the bank has not been prohibited from gathering deposits and is ready to hit the Eastern Shore market as soon as the capital is closed.
"Upon completion of the capital raise, we are full steam ahead," Hourigan said.   Another change that will come along with this ambitious plan is that the new bank is aiming to be publicly traded. VBB has always been privately held.   The capital offering is being handled by Scott & Stringfellow.
Some banks have been able to raise capital lately, but it's an uphill battle, said several financers with experience in the banking sector. It's unclear exactly how much investor interest there may be for stock in the bank.
Larry Pettit, a VP at Anderson Studwick who works on banking, said that Harvard's reputation will help sell shares of stock.
"Raising capital is a challenge. But what I would say is: The CEO has a good following. And a good reputation. And money tends to follow good bankers," Pettit said.
Michael Schwartz covers banking for BizSense. Please send news tips to [email protected]