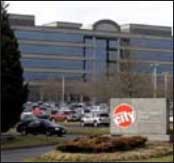 The former Circuit City HQ has been sold.
DRCC Properties, LLC, a company of run by some of the same people at the firm Pruitt Associates, acquired the property at 9950 Mayland Drive in Henrico for $3 million.
The building, Deep Run I, covers 288,000 square feet includes a data center and a full-service cafeteria. It was previously owned by New York-based Lexington Property Trust, which defaulted on a $17 million commercial mortgage during the third quarter of 2009 with a balance of $15.5 million left unpaid. The note was bundled and sold as a commercial mortgage backed security to investors.
DRCC Properties acquired the 58 acres of land that the building sits on last week  for $2.75 million. (You can read about that here).
Commercial real estate firm Thalhimer handled negotiations on behalf of the lender.