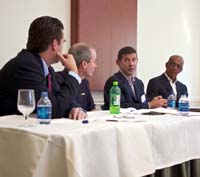 A company that sticks to its values leads to the most stable and profitable business in the long run, even if it passes up a chance to make a few extra bucks in the short term.
At least that's the case most of the time, agreed three panelists at a recent ethics symposium at the University of Richmond.
"When you're good at it, stating your values provides a clear signal inside and outside the firm, and that resonates with employees, with customers and with potential business partners," said Richard Coughlan, an associate dean at UR's Robins School of Business who studies corporate ethics and decision making.
On Monday, Coughlan moderated the panel discussion, entitled "The Values-Based Firm", as part of a day of ethics at UR.
Clear values are helpful for recruiting at SnagAJob.com, said founder and CEO Shawn Boyer, adding that his firm stresses collaboration, accountability and passion. But at times those values have prevented the company from expanding at an even faster rate. Boyer said that he has had to reject potential acquisitions because the corporate culture at SnagAJob would not have fit well with the new firm.
Now SnagAJob has a committee that meets regularly to discuss the key values, Boyer said: "Collaboration has helped us evolve beyond just a jobs board. [We are building] a community of hourly workers, and that requires a ton of collaboration."
And clear values help drive the long-term vision at Luckstone, said Mark Fernandes, the chief leadership officer, including the launch of new product lines.
But at CarMax, they're the reason for existing, and why the company has been able to grow in a fiercely competitive auto sales industry, said Joseph Kunkel, a senior vice president of marketing and strategic planning.
"At CarMax, our integrity we bring to selling cars is instrumental. That core value can't change without a fundamental shift [in our business approach]," Kunkel said, referring to CarMax's policy of trying to be the anti-used car lot where customers don't have to haggle with salesmen.
Maintaining a fierce adherence to that value can be hard at CarMax, Kunkel said, because so much of the car business is about making things opaque.
"You make money on something the consumer doesn't seem to care about [such as an additional charge for processing], but then you think about how you want to be around in another 10 years," he said.
He also said that companies need to make their values more than just a placard pasted in the break room.
And for entrepreneurs, running a company molded on the values of the founder is natural. But maintaining that focus on a few key principles gets harder as the business grows, Coughlan said.
"Up to a certain size, those values are closely aligned with your own," Coughlan explained, "But then you need input from others as a crucial piece of maintaining those values. And it's wrong to treat them as static."

Aaron Kremer is the BizSense editor. Please send news tips to [email protected]