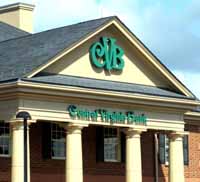 A local bank has put the brakes on its plan to raise capital.

Central Virginia Bank and its holding company announced late Friday that it has postponed efforts to raise up to $15 million on the advice of its investment bankers.
"Due to the current economic conditions and their effect on the equity markets and in particular bank stocks, now is not the right time for us to be going to the market," CVB's chief operating officer Herb Marth said by phone Friday.
CVB announced its capital raising plans in June, just before entering into an agreement and turnaround plan with state and federal regulators. Raising capital, in addition to better managing its troubled loan portfolio, were conditions of the regulatory agreement. Read more about the agreement here.
The Powhatan-based bank lost almost $19 million combined in 2008 and 2009, fueled at first by losses on investments in Lehman Brothers, Fannie Mae and Freddie Mac and then by losses on troubled real estate and commercial loans. It had $32.5 million in non-performing assets on its books at the end of the second quarter, more than double from a year ago.
Its losses have subsided somewhat this year, standing at about $1 million through the first six months. But its balance sheet has also been shrinking. It reported $448 million in total assets as of June 30, down $24.4 million in the past six months. Its loan portfolio has shrunk by about $11 million since the end of 2009. It had $368 million in deposits at the end of the second quarter, down about $16.7 million since December.
"We've got a strong franchise, and we're just going to continue to serve the needs of shareholders customer and employees," Marth said. "And we are making loans."
But making loans hasn't been easy, as declining demand from qualified borrowers has slowed the growth of its portfolio.
Marth told Richmond BizSense in July that the thing the bank needs to do most is raise capital, but he knew then it was not an easy time to raise the money.
The bank said it expects to renew its efforts to raise capital when market conditions improve. CVB is still considered well capitalized according to regulatory standards in two of the three capital measurements and adequately capitalized in the third, although higher levels of capital are a provision of the regulatory agreement.
CVB hasn't raised capital since it received $11.3 million from the U.S. Treasury in January 2009 through the Troubled Asset Relief Program.
In February, CVB said it must defer the TARP dividends it's supposed to pay the Treasury each quarter. CVB currently owes $284,000 in unpaid TARP dividends.
Michael Schwartz is a BizSense reporter and covers banking. Please send news tips to [email protected].