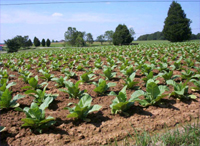 One millions dollars in grant funding has been made available to manufacturing companies in Virginia's tobacco growing regions.
The funds are being made available through the Virginia Tobacco Indemnification & Community Revitalization Commission and the National Institute of Standards and Technology Manufacturing Extension Partnership.
Companies residing in Southside Virginia and parts of Southwest Virginia that are engaged in manufacturing, scientific, technical or research-related industries. The grant program is administered by Genedge Alliance, the non-profit extension office for the state manufacturing industry.
"This new funding represents a substantial incentive and growth opportunity for a significant portion of the Commonwealth," says Jeff Kohler, executive director of Genedge Alliance, in a statement.
"In a time of unprecedented economic adversity, any qualifying company with a validated idea for new product or new market development may receive a sizable match from both TIC and NIST-MEP to offset expenses related to strategic growth," Kohler stated.