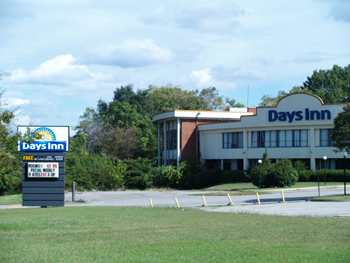 A seedy hotel just outside the city on Chamberlayne Avenue will be auctioned on the courthouse steps.
The Days Inn at 5701 Chamberlayne Ave. has 171 rooms, is located on six acres right off Interstate 95 and has a large outdoor swimming pool. It is also in terrible condition, with many of its windows boarded up.
The property is scheduled for a foreclosure sale at the Henrico Circuit Courthouse on Oct. 14 for defaulting on a deed of trust dated August 2000. The maximum principal secured by the deed of trust is $2,400,000. A Loopnet ad lists an asking price of $3.15 million. It states that 2007 revenue was $1.2 million.
Room rates were advertised at $42.95, with a weekly rate starting at $210.
For a good idea of why the hotel is in trouble, just read these reviews.