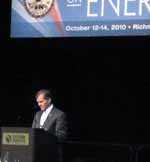 There were no surprises as Gov. Bob McDonnell took to the podium Wednesday to advocate for an "all of the above" approach to addressing the state's energy needs.
Speaking before hundreds of people in the energy industry and a cadre of public officials, McDonnell reiterated his promise to make Virginia the energy capital of the East Coast. The governor's speech was part of a three-day conference on energy that he organized.
"I want to make sure Virginia is at the forefront," McDonnell said. "We have virtually every God-given resource available to us."
Natural gas, coal, nuclear and offshore alternative energy sources topped McDonnell's list of energy sources with the most local potential, and he stressed Virginia's need to increase domestic production of energy, citing a recent report that named the state second only to California when it comes to the country's biggest importer of electricity.
"We already purchase more than 30 percent of Virginia's use of the grid," McDonnell said. "In the long term, that means higher prices for our citizens." McDonnell said that to meet the state's energy needs, there must be a minimum of 7,000 megawatts of new generation over the next 10 years.
McDonnell ran through a list of energy sources and spoke about the roles he expects each to play to meet those needs.
When it comes to nuclear, McDonnell named Lynchburg as a hub for future activity with the presence of major nuclear engineering firms in the area. He also praised Dominion for a new reactor planned for Lake Anna.
McDonnell named offshore wind as one of the state's most vital natural resources and anticipated that its development will create thousands of jobs and attract billion of dollars in capital investment. He pointed to a recent deal between Northrop Grumman and a Spanish turbine maker to develop technology in Hampton Roads as an "exciting first step in bringing the wind energy supply chain to Virginia." The governor also referenced an announcement made by Google yesterday that the company was investing in a $5 billion project to develop offshore wind along the East Coast.
McDonnell mentioned biomass as another potential energy source, including the use of "chicken litter" harvested from the state's chicken farms. He also named Osage and Piedmont Bio Products as major players in that field.
McDonnell reaffirmed his support for the state's natural gas industry.
"Natural gas is a critically important part of Virginia's energy future," McDonnell said.
Natural gas, he said, could be a viable alternative for gasoline-powered automobiles.
He also defended the state's coal industry and said that new technologies are being developed that promise to eliminate environmental arguments against it, chiefly referring to the benefits of carbon capture and sequestration.
"If these experiments prove successful, the future of coal in Virginia is very bright," McDonnell said.
The governor had little to say about developing the state's solar industry, noting that his administration is still trying to evaluate whether it makes sense for Virginia, his biggest concern being costs.
McDonnell saved perhaps his most targeted source for energy production for last: offshore oil and gas.
"I still believe Virginia will be an offshore energy leader," said McDonnell, hopeful that the current drilling moratorium will be lifted. The Obama administration had previously moved to allow lease sales off the Virginia coast, but those plans were quickly derailed by the BP disaster over the summer.
McDonnell said that studies show there are trillions of cubic feet of gas and hundreds of millions of barrels of oil waiting to be tapped and said that he would not stop his efforts to see offshore drilling move forward.
Al Harris is a BizSense reporter. Please send news tips to [email protected].