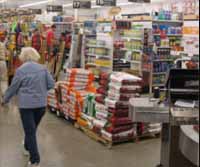 Richmond consumers continue to cut their overall spending, but a few retail segments are starting to see their sales numbers rebound including clothing and hardware stores.
During the first half of the year, taxable sales receipts in Richmond City, Henrico County and Chesterfield County totaled just over $5 billion. That figure is 3.2 percent less than during the first half of 2009.
For the second quarter, area sales totaled $2.59 billion compared to $2.64 billion in the second quarter of 2009.  The decrease of 1.89 percent is the smallest quarter to quarter change since BizSense began analyzing taxable sales data at the end of 2008—a sign that the slowdown may be flattening out.
Consumers pulled back at a faster pace in previous quarters — 4 percent and nearly 8 percent for many of the reports BizSense produced.
Also encouraging, several retail sectors that were hit hard during the recession seem to be rebounding.
For instance stores that sell clothing and clothing accessories appear to be doing much better. Sales increased through the first half of the year 3.7 percent over the previous period a year ago for a total $281 million. Comparing the second quarter of 2010 to the same quarter in 2009, sales improved more than 8.5 percent. That is a drastic turn around from the same comparison from 2008 to 2009, when clothing retail sales fell 11 percent.
Building supply and gardening stores are also seeing more business.
Sales exploded by 43 percent in the second quarter compared to the previous year. That is a lot more ringing registers than between 2008 and 2009, when sales dropped of by 14.5 percent.
Restaurants and bars are also doing a little bit better, growing sales by more than 6 percent in the second quarter. That is a big change from the 1 percent to 2 percent decrease reported for previous quarters.
In another twist, the retail segments that have performed the best over the last two years look to have hit a wall.
Grocery and convenience stores' sales, which had grown by about 4 percent to 6 percent during previous quarters, declined by about 4 percent during the second quarter compared to the previous year.
General merchandise stores, such as Wal-Mart and Target, are also not as generating as much sales as usual. Making up the largest segment with $405 million in sales in the second quarter, only grew by 1.5 percent. That is less than previous quarters when they grew by as much as 6 percent.
Al Harris is a BizSense reporter. Please send news tips to [email protected]