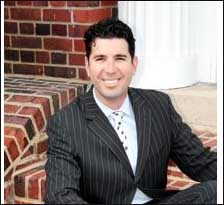 It's the legal equivalent of forfeiting the game by not showing up.
Just before he is due to appear in court on multiple fraud charges, formerly high-flying developer Justin French was hit last week with two default judgments against him totaling almost $2 million for failing to repay loans.
French didn't reply to the lawsuits by the deadlines, so the two plaintiffs will get automatic liens on his Richmond home, which is in foreclosure and will be auctioned off next week. It also means that they can go after French's bank accounts, although it's unclear what money French might have or where it might be.
Creditors might be trying to position themselves at the front of the line should French file for bankruptcy, according to a local real estate lawyer who spoke on background. Although even then, there might not be much money for creditors.
Plaintiff Rostormel Financial Services, a real estate investment group run by former Redskins player Darrell Green, was awarded a default judgment totaling $1.4 million plus attorney's fees, court costs and interest.
In November 2007, Rostormel assumed two notes that were held by Superior Mortgage Corporation and personally guaranteed by French. The first loan was issued in the amount of $1 million and secured by a deed of trust on 316 E. Grace St. The second note, also for $1 million, was secured by 614-620 N. 28th St. (Previously on BizSense: Former Redskins star caught in French's troubles)
According to the court order, French failed to respond to the suit within 21 days, after which time the plaintiff may file a motion for default judgment.
Samuel J. Kaufman, attorney for Rostormel, said he could not comment on the judgment or his plans for collecting it.
The second judgment against French was awarded in the amount of $435,995 for two loans issued by Citizens Bank & Trust of Blackstone, Va. According to the court order, French stopped paying on the two promissory notes after May 19.
Attorneys from CowanGates did not immediately return calls for comment.
An attorney with another firm who asked not be named said that the plaintiffs will have a difficult time collecting those judgments because of French's legal and financial troubles. The lawyer said that judgments are valid for 20 years.
French is due to appear in Richmond General District Court on Nov. 2 on eight counts of fraud and one count of issuing a bad check. An investigation is still being conducted by the FBI and IRS.
Al Harris covers commercial real estate for BizSense. Please send news tips to [email protected]om.