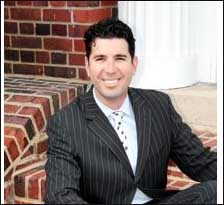 A hearing to present the state's case against developer Justin French on multiple fraud charges will be continued until next year.
The joint motion was approved by Judge Phillip Hairston at Richmond General District Court in Manchester. Patrick Dorgan with the attorney general's office told the judge the motion is to allow more time for discovery. A new date was set for Jan. 25.
French was silent during the brief proceedings.
At the request of his lawyer, French was granted permission to leave Virginia to visit his family for two weeks in November and two weeks in December. French previously told BizSense that he had moved his wife and children to Florida this year.
As a condition of his bail, French was previously told that he could not leave the state or possess a passport.
French was arrested Aug. 13 at Richmond International Airport by a special agent of the state police and charged with four counts of uttering false documents and four counts of forgery. According to arrest reports, those felonies were committed March 20, 2009; Oct. 27, 2009; April 29, 2010; and May 21, 2010.
French is also charged with a ninth felony, writing a bad check in the amount of $2,677 on May 21 from a closed account to Paul's Place architectural salvage.
Authorities have not disclosed the documents French is accused of forging, but they are likely connected to his use of state historic tax credits to fund projects.
Less than a week before his arrest, French's office in Shockoe Slip was raided by FBI and IRS agents who collected about 100 boxes of material. So far no charges have come as a result of that investigation. FBI officials have refused to comment about their case.