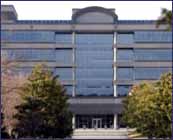 One of the slickest secrets of the former Circuit City headquarters is the hidden bathroom for the head honchos.
The plush corner offices have built-in ebony bookshelves. At first glance, nothing appears to be out of the ordinary — just a wall at the end of a row of shelves. But the right-hand panel is actually a reinforced steel door with two bolt locks that leads to a private restroom, complete with shower.
"One lock would be normal, but two?" Michael Pruitt said on a recent tour.
It's one of Pruitt's favorite details, along with the five-story atrium and the wooded grounds out back.
He explores the building like a kid in a new tree fort, theorizing that the two locks might mean that the bathrooms doubled as "safe rooms" in case of emergency.
Pruitt and his company, DRCC Properties LLC, are the proud new owners of Deep Run I, a 300,000-square-foot, five-story building that was the better of Circuit City's two headquarters buildings.
A gusty deal
Michael and his uncle, longtime Richmond developer Tommy Pruitt, spent close to a year trying to buy the property and the land, which were separately owned and both distressed. ?The land was owned by the bankrupt Circuit City entity and overseen by the bankruptcy court. Nobody was in much of a hurry to do anything with it.
The building was owned by an investment group, but after Circuit City went bust, that trust had no tenant and no rent coming in, so it did what some underwater homeowners do: It sent the keys to the lender. Only the lender wasn't one bank, but rather a group of investors who each owned pieces of the loan, so a servicer was put in charge.
That servicer hired local real estate brokerage Thalhimer to shop it around.
Thalhimer contacted the Pruitts.
Not that they were looking for deals. Pruitt Associates sold its office portfolio in 2007. But they were intrigued.
The Circuit City building had one big thing in common with the company's other successful real estate investments: a prime location.
"The bones are solid, and we liked that. We liked the exposure to Interstate 64, and the building has access to Broad Street and Gaskins. What's neat about this location: It's improved over time," Pruitt said, adding that there are now restaurants, coffee shops and hotels nearby.
The deal was complicated, but that didn't deter Pruitt, who worked in finance on Wall Street for five years. He wanted to simultaneously buy the land from the bankrupt Circuit City and the building from the servicer representing a collateralized loan. It's enough to make your head spin. And to scare off some of the potential buyers.
David Downs, a professor of real estate at Virginia Commonwealth University, said that the Pruitts had the advantages of liquidity and an appetite for the risk. "A project like this, it wouldn't appeal to a lot of investment [firms]. The risk is abundant as to how to get tenants in, get it leased up and what sort of tenant improvement you have to anticipate," he said. "A lot of players like REITS are happy to pass on it."
He added that with that extra risk comes some reward if the project flies. "Where real money is made is in a down market. That's where you pick something up at a very low basis," Downs said.
Indeed, Pruitt paid a combined $5.75 million to assemble the building and 58 acres of land, which includes a parking lot, a wetland that can't be developed, a softball field and sand volleyball court out back, and some land that could be developed for a future use.
The building's previous owner borrowed defaulted on a $17 million loan, and that was just the building with no land. Henrico County most recently assessed it at $13.6 million.
The cost to build a similar building brand new, should the marketplace need more supply, would be about $60 million, using a cost basis of $200 per square foot.
Eric Robison, who manages the investment division at Thalhimer and who shopped the building, said that a local buyer had another advantage over the investors who had it. "The law says that the lender could not buy the land because the entities in a securitized loan cannot add to the collateral."
That meant that the building's owner was prohibited from making the most natural move: buying the land so the building and land were together. Plus, the lender was hesitant to have to pony up the money to lure new tenants and fix up the floors to their liking, Robison said.
Remember, this was fall 2009. The economy was getting worse, and real estate was a dirty word.
"We had to then find an investor who was savvy enough to realize that the fundamental challenges were temporary and not indicative of how the office market behaves," Robison said.
There was only one problem: Who would want a tenantless, non-rent-paying building with the obligation to pay rent to the land on which is rested?
Pruitt said he was comfortable with the risks of owning just the building, or just the land, figuring it would work out in end. If he had just the building, he could find tenants. If he had just the land, he got the rent from the building's owner. And if they didn't pay rent, he could snatch the building as collateral once they were in default. ??Now he owns both.
Fixer-upper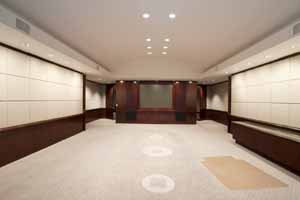 Tommy Pruitt, Michael's uncle, is no stranger to real estate. But many of those projects have been brand new, such as the Goochland office park West Creek or the Short Pump Town Center mall.
This is pre-owned.
There is the faintest smell of must inside Deep Run I. There are other subtle cues that a once-great company had 3,000 workers here. There's red carpet in the entrance. A few small Circuit City logos glued to the wall and a room full of old computers. ??The second and third floors have wall-to-wall cubicles, and some of the corner offices have dry erase boards with writing still on them. (You can see an RBS video of the going-out-of-business sale at the HQ here.)
"It was Class A space. We are trying to bring it back to that standard," Pruitt said.
After the Pruitts upgrade the building, they hope to find one tenant large enough to take the entire space, or at least an entire 55,000-square-foot floor.
Pruitt said he's showing the building once a week now. One office broker said there is interest from outside the area and from Richmond. A corporate relocation or upgrade, a la Capital One's purchase of two buildings at Innsbrook in August, would be ideal. (You can read more about that in an RBS story here.) ??Pruitt said they're going to redo the landscaping and add a new roof, and the building is getting a monitoring system that helps it cut energy costs.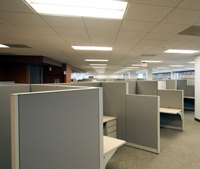 Pruitt said he's hesitant to fix up each floor just yet, because potential users could have specific tastes or needs. And the second floor has a sea of brand new cubicles, which a new tenant may love, especially because they're free. Cubicles can cost more than $1,000 per station.
But that brings up one of the peculiar challenges of his strategy: Should he chase one huge tenant who wants the entire building, or should he subdivide it? And how much should he subdivide it? Into floors? Half-floors?
David Wilkins, an office broker at CB Richard Ellis, said most office tenants in Richmond require about 20,000 or 25,000 square feet. That's why many of the buildings at Innsbrook have floors that are about that size. Deep Run I's floors are about twice that size.
There are also a lot of other options out there for potential tenants. Vacancy at Innsbrook is about 25 percent. But that will be falling soon, Wilkins said, adding that a couple of deals are close on the former LandAmerica headquarters. And there are only a few huge blocks of space that compete with Deep Run, Wilkins said.
Still, there might be more competition coming next door. Deep Run III, which was also a Circuit City building, is in default, Wilkins said, adding that he anticipates a short sale on that building. That building is completely vacant.
"Frankly, I wouldn't be surprised if Pruitt picked up Deep Run III," Wilkins said.
Pruitt said he'd consider making a run at that building, too. Even if it doesn't have hidden bathrooms in the executive suites.
Aaron Kremer is the BizSense editor. Please send news tips to Editor (at) richmondbizsense.com.