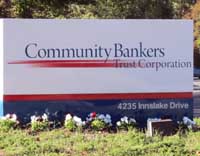 A local bank said last week that it expects to enter a written agreement and turnaround plan with state and federal regulators.
Community Bankers Trust Corp., the Glen Allen-based parent company of Essex Bank, revealed in its third quarter earnings release that the agreement will likely be officially announced early next year. That would make it the fifth local bank under regulatory agreement, joining Bank of Virginia, Central Virginia Bank, Virginia Business Bank and Consolidated Bank & Trust.
Although it's not set in stone, the agreement will likely lay out a plan for the bank to better manage credit risk, the Innsbrook-based company said in its release. Essex Bank has been battered by tens of millions of dollars in nonperforming loans and huge losses.
For example, the bank lent more than $8 million to the Federal Club, an upscale golf club in Hanover County that went bankrupt. The bank recovered less than half of that amount from the sale of collateral.
There have been plenty of signs that a written agreement was looming. The company made several telling moves, including shuffling its executive ranks and beefing up its staff with problem loan specialists.
"The main point to make is that these aren't issues that are new to us," said Jay Oakey, CBTC's general counsel. "We've spent a lot of time working on these, and we've implemented a bunch of things during 2010 to address them."
CBTC was founded in 2005 as a fund to acquire community banks. It grew quickly through a series of local acquisitions and scooped up failed banks in Maryland and Georgia to become one of the largest bank holding companies in the Richmond area.
After losing almost $30 million in 2009, the bank has lost $24.5 million so far this year. According to CBTC's latest earnings report, it had $1.17 billion in total assets, about $68 million of which are in non-performing status, made up mostly of commercial and land development loans. Its bad loans have more than doubled since the end of 2009.
"Reducing the level of nonperforming loans is a top priority," interim chief executive Rex Smith said in a prepared statement.
Some of the bank's nonperforming assets — but less than a quarter — are covered by a loss-share agreement with the FDIC.
The bank has managed to stay about above the regulatory minimum capital requirements. And although its total assets and loan portfolio have fallen since the end of the year, the bank's deposit base has remained mostly steady. It also increased its non-interest bearing deposits and decreased the more costly interest-bearing deposits.
CBTC's search for a new chief executive is still underway, Oakey said. The seat has been vacant since early September, when the company said George Longest was assuming a non-management position in the bank, a move that will allow it to bring in someone with more experience running a large bank holding company with problem assets. Read more about that executive shuffle here.
Bank of Essex is far from alone in catching the eye of regulators. Hundreds of community banks nationwide have become party to similar agreements since the recession began. And things haven't quite gone as planned for the other Richmond banks trying to work their way out of the extra regulatory scrutiny.
Virginia Business Bank's plan to recapitalize and rebrand didn't pan out as it hoped. The closing date for Bank of Virginia's plan to raise capital by selling majority ownership to a group of bank investors has been pushed back because of a regulatory logjam.
Central Virginia Bank postponed its attempt to raise capital because of what it saw as an unfavorable appetite among investors for community bank stocks. And Consolidated Bank & Trust will be merged and rebranded into a new bank brand created by its West Virginia parent company.

Michael Schwartz covers banking for BizSense. Please send news tips to [email protected]