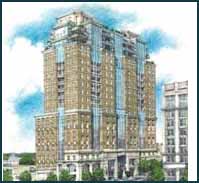 A New York developer is putting down plans to build a highrise downtown.
Goodstein Development Company has recently put the parcel it owns on Main Street between Fifth and Sixth streets on the market for $5.95 million.
The company assembled the land in 2005 with an ambitious plan to build a 600,000-square-foot, mixed-use building called Centennial Towers. At the time, [private]the company said it planned to invest $150 million.
The company is also auctioning off condos at its Presidential Court building across from the Jefferson Hotel on West Franklin Street and trying to sell a commercial building nearby on Broad Street. (Pictured below).
Centennial Towers was to be something totally new for Richmond.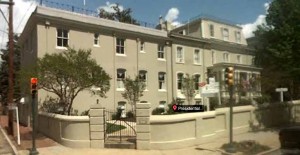 "Our original dream there was the ultimate vertical gated community," said Lenny Bayer, senior vice president of the firm.
At more than 75 years old, the company has built dozens of skyscrapers in Manhattan. Around 2002, Bayer said the firm looked to Richmond as a growing business city that they could move into. Centennial Towers was poised to be a shining example of the type of urban mixed-use project Richmond was ready to embrace, Bayer said.
"A couple or family could own a condo on the 29th floor, take the elevator down to the office on the 12th floor. The in-laws could come and visit and stay at the hotel on the 8th floor, and everyone could go eat at a nice restaurant on the ground floor, then go to the garage, get in your car and drive," Bayer said.
"That was our plan, but then the market changed and the economy changed."
As a result, Bayer said, Goodstein Development had to turn its attention to its own back yard in New York, placing the project in limbo.
Now the company is hoping to find a buyer for the property. Bayer said that they have talked to developers in the Richmond area who have expressed interest.
In a BizSense story from October 2008, Bayer said that securing financing and finding tenants had stalled the project but that they were in no rush to develop.
Now that they have decided to forgo the project, they aren't necessarily in a rush to sell the property, either.
"It is the only piece we have left with nothing going on with it. We aren't desperate. We'll keep paying the taxes, interest and insurance until it's sold," Bayer said.
Al Harris covers commercial real estate for BizSense. Please send news tips to [email protected]. [/private]