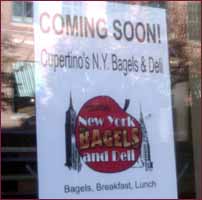 A local bagel entrepreneur is following his gut and expanding from the West End to downtown.
Walter Baietti opened Cupertino's New York Bagels and Deli in the West End about three and half years ago in the newly built Twin Oaks Shopping Center near Cox and Broad.
Prompted by customer demand, Baietti and his two sons are preparing to open a new location downtown at 1215 E. Main St.
"A lot of people that come here work in offices downtown, so we thought it would be a great idea since no one else is there doing what we do," Baietti said.
Baietti said he hopes to be open by December. And although this will be his second shop, he has a long pedigree in the business and hails from the land of great bagels.
Baietti and his family moved from just outside New York because his wife worked for MeadWestvaco and got transferred to Richmond. Before moving, Baietti had owned a catering business.
"I sold my business in New York, came down here and hated the bagels," Baietti said.
Fortunately for Baietti, baking was in his blood. The family tradition began when Baietti's grandfather Frank Cupertino opened a bakery in the Bronx in 1926.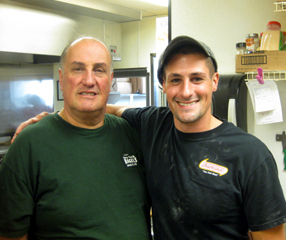 Transplanted to a city were frozen bagels are the norm, Baietti was compelled to take matters into his own hands and start a new business.
Baietti said locals were slow to catch on at first, but now customers are hooked.
"A lot of people are getting used to these bagels now because they know the quality," Baietti said.
The legacy continues with Baietti's two sons, Walter Jr. and Nicholas, who he says will manage the new store together.
Walter Jr. now spends most days in the kitchen at the Twin Oaks location where Cupertino's churns out 1,800 bagels a day. His day sometimes starts at 11 p.m. to make sure the bagels are ready for wholesale deliveries by 5 a.m.
"The bagel business is a lot harder than people may think," said Walter Jr. "There is a lot of labor involved. You've got to mix and shape the dough and bake it, and all that take a lot of time."
The new location will have an oven for baking its own bagels on-site, while Cupertino's wholesale bagels, which go out to a number of cafes around town, will continue to be baked in the West End.

BizSense has been on the bagel beat like a generous schmear of cream cheese. Previously:
Filling Richmond's bagel hole
Husband and wife Kevin and Jacqueline Sharman are setting shop in Carytown, and by the end of October they hope to fill the city's bagel hole with Jaks Bagels & Deli.

Q&A: No holes in former bagel maker's résumé
Tom Rhodes had the same thought thousands of U-Va. kids have when they get home from Charlottesville: open a bagel shop like the famous Bodo's in their hometown. So he opened Lazy Bagels. That was in the early 1990s, and the shop is no longer around. But Rhodes shared some of the joys and challenges of the bagel biz.

Al Harris is a BizSense reporter. Please send news tips to [email protected]