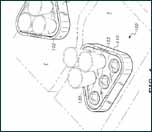 Some of the best business ideas are hatched over a few beers. Of course, so too are some of the most harebrained.
Two Richmond pals are hoping the $8,000 they spent to patent a drinking game device ends up being the former.
The Pongerator, which keeps cups of beer cold while playing beer pong, is the brainchild of locals Matt Webb and Rob Kent.
The two were hanging out one afternoon and got an invite to go to a party to play some beer pong, a popular drinking game that involves tossing ping-pong balls into beer-filled cups.
Four years and thousands of dollars paid to patent attorneys later, Webb and Kent don't have a prototype, and they don't have a business plan. But as of Oct. 5, they have their patent.
Webb and Kent chatted with BizSense about their idea. An edited transcript is below:
Richmond BizSense: It's not difficult to imagine where the inspiration for a beer-pong-related invention came from, but how'd you guys come up with it?
Matt Webb: Ideas come from necessity. But this wasn't really one of those. It came from Rob complaining about not wanting to play beer pong because the beer gets warm. And I think I was like, "someone should do something about that."
Rob Kent: We had our creative juices flowing.
RBS: So you filed a patent four years ago. How hard was it to wait?
MW: It was easily put aside, and you have your doubts big time.
RK: The process really was so long. When we first came up with it, we were gung-ho. But then it takes so long, and you're like, "Have I just been throwing away money [to pay patent lawyers]?" We've invested roughly $8,000. Now we own a patent that is worth something. We're just trying to find out what it's worth. We don't know what route we're going to take, but we are going to pursue it. We don't want to be 50 or 60 years old and have some dude be a millionaire with the same idea.
RBS: You found out there's some competition selling basically the same product, but you guys got the patent first. How are going to handle that?
RK: We've known about them for a couple years: the N-Ice Rack guys. http://www.n-icerack.com/ We figured we filed before them, but we weren't sure. Right now, we're just sending them a friendly letter, making them aware of us. We'll enclose our patent. I think we hold all the cards, but you never know.
MW: They obviously had a good idea, but we beat them to it. We're going to try to form friendships rather than nasty business relationships.
RBS: So how do you plan on turning an idea and a patent into a business? And what if the competition tries to buy you out, seeing as they already have an actual product?
RK: Licensing is something I'd look at. We're leaving every option on the table.
MW: Maybe they are going to treat us like Matt Damon and Ben Affleck and this is our "Good Will Hunting."
RBS: Have you had offers yet?
MW: We had one guy say, "Give me 50 percent, you guys each take 25 percent and I'll take care of everything."
RBS: Or could you take the other route — form your own company, manufacture, sell and market these things yourselves?
MW: I want to revolutionize the game. I don't know how yet. I think one of the important things is to think bigger than beer pong. That's our next step. You don't have to just put beer in. How about at the picnic table to keep your beverages cold? Who needs ice? Get a Pongerator already. Should that be our slogan? We could put logos on. We could personalize it. The options are endless. The keyword is marketing. We've joked about having the Pongerator Girls – because sex sells. But we're not even at the step.
RBS: What about the old saying that you should never do business with your friends?
RK: There's an exception to every rule.