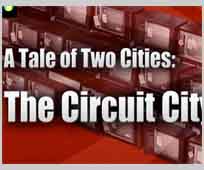 A documentary about the rise and fall of Circuit City will have its local premier next month.
"A Tale of Two Cities: The Circuit City Story" will debut in Richmond on Dec. 8 at the Byrd Theater in Carytown.
(You can read about the film in an RBS story here.)
Alan Wurtzel, the son of the Circuit City founder and a onetime director of the company, will introduce the film.
Former Circuit City worker Tom Wulf produced the film. He showed it last month at the Virginia Film Festival in Charlottesville.
You can see the trailer below:
[youtube]http://www.youtube.com/watch?v=fpj7Cf0wBOc[/youtube]