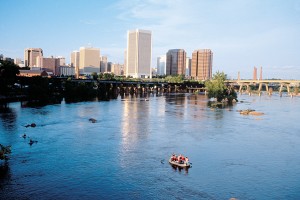 Several Richmond-based companies announced this week plans for new operations and expansion.
A medical manufacturer will invest $1 million to expand its plant in Chesterfield and add 75 jobs in the process.
Utah-based Merit Medical Systems has operated a plant in the county since 2004.  The firm employs 2,170 people worldwide.
Gov. Bob McDonnell announced the expansion in a news release Thursday.
"Despite today's challenging economic times, Merit Medical continues to serve market demand, which allows the company to grow. I am pleased that this expansion will bring 75 new jobs that perform a vital service for the healthcare industry," McDonnell said in a statement.
State and local economic development groups worked to secure the project. The Virginia Department of Business Assistance will provide funding to support the company's recruitment and training activities.
You can read the full announcement here.
MeadWestvaco announced it will invest $480 million to expand operations at Rigesa, the company's Brazilian subsidiary.
"Our experience, knowledge-base and existing infrastructure in Brazil — along with the country's emergence as an economic powerhouse — make further investment in our business there very logical and attractive. We are confident that it will be a tremendous source of value for our shareholders and continue to be a long-term competitive advantage for MWV," said John A. Luke, Jr., CEO and chairman, in a statement.
The highlight of the investment is the installation of a paperboard machine that will double capacity at one of its mills, allowing the production of 300,000 metric tons of packaging material a year. The expanded operation will employ 800 people there.
Tredegar Corporation announced that is has opened a manufacturing plant in Pune, India, that will produce plastic films for the hygiene market. The plant is part of the company's plan to break into emerging markets.
"We are excited about the opportunity that this plant affords us — to tap into a wealth of talented professionals and operate a cost-effective plant with a continuing company focus on quality and safety. Bringing on local management and staff should allow us to learn quickly and adapt our product offerings to regional market needs," said Monica Moretti, company president, in a statement.
Closer to home, a technology consulting company announced plans to expand here.
CapTech recently doubled its office space and opened a new training center in Henrico County.
"As 2010 comes to a close, we have grown employees, sales and profits at over 20 percent," said CEO Sandy Williamson in a statement. "We are now ramping up our Charlotte and Northern Virginia offices with new client wins and employees."
The company said that it hired 70 people this year and that it plans to add 50 more in the next six months.
And finally, law firm McGuireWoods announced that it adding an office in Houston following a merger with a firm based there named Nickens Keeton Lawless Farrell & Flack LLP. The agreement is pending final approval of partnerships for both firms and would be effective Jan. 1.
"Establishing an office in Texas is a key part of the firm's strategic plan, as our clients and McGuireWoods Consulting's clients frequently have needs there," said Richard Cullen, chairman of McGuireWoods, in a statement.
The company last grew in 2009, adding an office in London.
Al Harris is a BizSense reporter. Please send news tips to [email protected]