Champe Granger doesn't claim to be an interior designer.
But the self-described serial entrepreneur and former Federal Reserve employee is now the CEO of MyDesignGuide.com, a new local online interior design service.
Granger's goal for MyDesignGuide is to use technology to connect customers, interior designers and home decor vendors. The site allows customers to enter their interior design preferences. Contracted interior designers then compile a design based on those preferences and make recommendations for products and services from vendors that the site has revenue sharing deals with.
And with the business still in its infancy, Granger, 48, has been out pitching to the venture capital and angel investor crowd to find $500,000 to fund a major marketing push for the site.

Granger recently talked about her new company with BizSense. The following is an edited transcript of that conversation.

Richmond BizSense: How and when was the idea for this business born?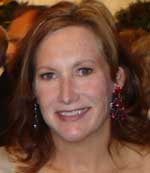 Champe Granger: My husband and I bought this big, hunking, dilapidated mess of a house on Monument Avenue five years ago. Everything in the house was pink. We wanted our home to look like it had been professionally designed, but we didn't want to pay the price that professional interior decorators charge. We're cheap. My husband doesn't want me to tell people that. But that's the reality of why we built the business.
RBS: So if you have no interest in being an interior designer, why start an design-related business?
CG: I'm not an interior designer. I'm a business person and a technology person. Interior design is enormously bereft of technology. It's an IT story.

RBS: How does the site make money?
CG: Customers purchase services. At the low end, for $29 for a paint color selection, up to $299 for a complete custom room design. Everything we do is in 3D models, down to the nitty-gritty little accessory – even the pillows on your sofa. You get a shopping list at the end, and each of those items is a hotlink to the vendor, and we get a percentage of the revenue. And we have ads that we're getting revenue from.

RBS: With no experience in the industry, how have you found these contract designers?

CG: This business probably wouldn't exist if Richmond didn't have the VCU Design School (the Department of Interior Design). I called them and said, "How much do your interior designers get paid when they get out of school?" They told me $15 an hour. I said send me four. Professionals charge $150 to $200 an hour. There's a big margin there. I said, "Why can't we make this a business and take some of that middle margin ground?"
RBS: What about the economy? How does the downturn affect your model?
CG: This economy works well with our business. As the economy gets better, we will shift up or down the spectrum. Right now we might capture some more of the affluent who will shift down to our service. There are 77 million middle American households unserviced today by this industry. Our service is less than buying one chair.
There are also a bazillion designers out there who are looking for work. In the staffing market — it's a buyer's market right now. Some of them are stay-at-home moms. All our employees are contract employees, so we have zero overhead in that arena which is a huge business advantage.
RBS: What's the competition like in the interior design industry?
CG: We looked on the Internet to see if anyone was doing what we're doing. At the time no one was. For us, it's about the technology behind the scenes. We did a patent search. That makes the process an entire workflow process. The only people competing with us are traditional interior designers, and they are mom-and-pop shops. They can only service one or two people at time. We registered 800 people in one weekend.
RBS: How's business so far?
CG: It's going slowly. We have revenue, that's all I can tell you. We have about 5,000 registered users, and we've been working for about nine months. We're doing a decent conversion rate of over 1 percent. Everybody says 2 percent is the holy grail.

RBS: You've been out pitching the business to potential investors. How much capital do you need, and what will you use it for?
CG: We've put in about $125,000 through bootstrap friends and family. Thankfully the major expenses are hopefully over. Right now marketing is our big expense. We're looking for about $500,000 for marketing dollars.
RBS: Where will you market it?
CG: We're not looking globally yet. If we just were to conquer the U.S., I'd be happy. We're really thinking somewhere between Baltimore and Atlanta. It's going to be a piece of that. We've done some work in D.C. successfully.

RBS: What are your revenue projections?
CG: It's three sources of revenue (design services, vendor revenue share and advertising), and nobody has this product. Our five-year projections are $183 million in revenue. It's an $8 billion dollar industry.
RBS: What's life like now as the owner of an online startup compared with the comfortable days at the Federal Reserve?

CG: It's awesome. It's worrisome. It's the best and worst of everything. You make your own decisions and you make your own mistakes. People who are in corporate America always want to be entrepreneurs. There are days where I say, "What am I doing?" And then there are days when I say, "I'm a genius."
Michael Schwartz is a BizSense editor. Please send news tips to [email protected]