The views expressed in Guest Opinions represent only those of the author and are in no way endorsed by Richmond BizSense or any BizSense staff member.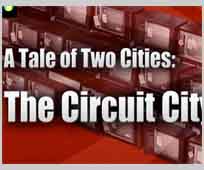 When Circuit City boarded its windows and bolted its doors for the last time in early 2009, more than 34,000 Americans lost their jobs. Maybe you were one of them.
Today, when I tell people I've produced a documentary about Circuit City, the response is often,  "Oh yeah … whatever happened to them?" ??It's a great question. Circuit City was a Fortune 500 company that was once hailed in Jim Collins's 2001 best-seller "Good to Great" as an example of exceptional management practices.  How did it descend so rapidly into bankruptcy and liquidation?
The loss of Circuit City was intensely personal for me. I had been telling the Circuit City story for 25 years.
In my year-long journey to capture the good-to-great-to-gone saga of Circuit City, here's what I discovered:
1.  There are equally important leadership lessons to be gleaned from the rise of Circuit City as there are from its demise. Long-tenured employees talk about the early leaders of the company with "enormous respect," using adjectives such as warm, tough, fair, energetic, results-focused and genuinely caring. They talk about the "family culture" and being internally "driven to perform." Leaders focused on their people, both associates and customers. Circuit City was the first to analyze every aspect of the customer's experience — before and after the sale — and build a set of policies and processes to consistently exceed customer expectations. It was the first to combine the 30-day low-price guarantee with a 30-day return guarantee, service after the sale, a huge selection, knowledgeable sales assistance, expert delivery and installation, etc.  In the glory days of Circuit City, customer satisfaction was its No. 1 priority, with associate satisfaction not far behind.
2.  The Circuit City story is also an illustrated history of the consumer electronics industry. It's about the fascinating early days of television, when many feared that the high-voltage contraptions would give them radiation poisoning. It's about the advent of revolutionary technology such as the VCR and camcorder, which provided the first on-demand viewing experiences, paving the way for Netflix and YouTube. It's about catchy advertising and compelling merchandising strategies. It's also a story about failed technologies, such as DIVX, and rapidly changing consumer demand.
3.  The people who brought Circuit City from good to great still have remarkable passion for the company. They want Circuit City to be remembered not as "the company that went bankrupt," but as "the company that changed American retailing." They didn't work nights, weekends and holidays and miss significant events in their family's life just for the money. They made those sacrifices because they believed they were changing the world — or at least the world of retailing. That was the Circuit City culture in its best years. The whole was greater than the sum of its parts.