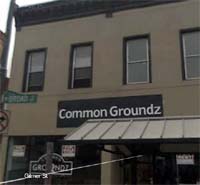 Plans to demolish a 19th-century commercial building on Broad Street have been put on hold.
The Virginia Commonwealth Real Estate Foundation bought the building at 734-736 W. Broad Street in June for $600,000. The ground floor was previously the CommonGroundz coffee shop.
It has been more than two years since that business closed, and the space has sat vacant, aside from the apartments upstairs. It briefly served as a campaign office for Creigh Deeds's run for governor.
The VCU Real Estate Foundation bought the property with the intention of tearing it down and constructing a five-story, 77- bed addition to the adjacent student apartment building at Broad and Belvidere. The planned project has an estimated construction budget of $6 million and is scheduled for completion in August 2011.
A demolition permit filed in September is pending. But the plan has been slowed due to a plea from the Historic Richmond Foundation as well as a closing delay on another property located behind the commercial building.
Mary Jane Hogue, executive director of the Historic Richmond Foundation, said her group contacted the university as soon as they saw that the permit was filed. The foundation is a nonprofit dedicated to preserving historic buildings in the city.
"I don't think VCU realized these buildings are in a National Register Historic District. From our understanding they are going to put that back in front of their discussion," Hogue said.
Properties located in such a district are considered to be worthy of preservation and are eligible for historic tax credits. The building in question was constructed in 1889 and is part of a historic district that includes several other properties along Broad.
"I don't know what will happen at the end of the day. I truly feel it will be taken back before the full board for consideration," said Hogue.
Paul Jez, assistant vice president for business services at VCU, said that the decision to demolish the building is on hold until the foundation can close on the property behind it at 301-305 Gilmer St. The university had also planned to demolish that building, which is an industrial workshop built in 1881.
Jez said that the building is under contract but that there is no timetable for a final settlement.
In the foundation's financial report in June, it stated that closing of the deal was expected to occur in August 2010, with an estimated purchase price below $250,000.
Previously on BizSense:
VCU retail struggles to take hold