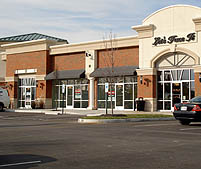 A restaurant that closed its doors last year on the Southside has crossed the river and reopened under a new name. Osteria La Giara opened this week in the Towne Center West development near Far East Bistro. The restaurant is a new venture of the owner of the former Nuccio's Trattoria & Pizza in Midlothian.
Owner Nuccio Giambanco closed his restaurant on Courthouse Road in Midlothian after 10 years in business when his landlord increased rent by more than 65 percent, he said.
"It's absolutely impossible to run the business with that irresponsible increase," Giambanco wrote in a statement to customers of Nuccio's on the restaurant's website.
He says the new restaurant in Short Pump features the "same food with more emphasis on authentic Italian and Sicilian cuisines, with a full bar and fresh seafood."
Giambanco says he plans to bring a Nuccio's to the Far West End soon as well. That venture would focus more on pizza.
Trevor Dickerson runs DowntownShortPump.com, which is an RBS news partner.