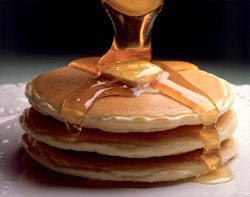 Yesterday we brought you news that IHOP is converting an old bank branch near the airport into a new restaurant.
Now VCU's student paper, the Commonwealth Times. is reporting that the International House of Pancakes will be coming downtown as well.
The downtown IHOP will be in the retail space that is part of the Laurel and Grace parking deck that is under construction.
It won't be a full-service IHOP, but rather an express counter-service version, and it won't be open 24 hours. It is also opening alongside two other food vendors.
From the Commonwealth Times:
"It's going to be slightly like a food court, but a little more glorified," Tamara Highsmith of VCU Dining Services said. "I would call it a robust menu that should appeal to a lot of people."

HOP will be an express location: a counter-service restaurant with no sit-down dining and a non-traditional menu. VCU's Student Government Association expressed concern about the lack of a dine-in area but, according to Highsmith, the speed of service necessitates counter service.
Continue reading here.