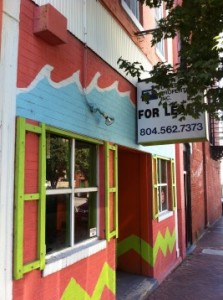 A new burger joint is coming to Shockoe Bottom, but fast food this is not.
Boom-Boom Burgers, which plans to open in January, is another restaurant set to source its ingredients from local farms.
"This locavore movement that is happening seems to be growing quite dramatically in the Mid-Atlantic region, and our goal is to take it to the next level," said Joshua Eftekhari-Asl, the 25-year-old owner of the new restaurant.
Boom-Boom will be at 1703 E. Franklin St., and the build-out of the space is underway.
"Our vision is to take that local supply of non-industrial suppliers both of conventional farms and organic farms and take that supply into the market with something easy and as fun as a burger restaurant," Eftekhari-Asl said.
Because local farmers do not benefit from the large economies of scale favored by industrial producers, that means customers will have to be willing to pay a premium to eat better quality food, he said.
But Eftekhari-Asl, who has a goal of opening four more locations over the next five years, said there are plenty of consumers willing to do so.
"The prices at Burger King and Wendy's, we can't touch that," Eftekhar-Asl said. "But thankfully Five Guys paved the way for a different price model."
At Boom-Boom, a quarter-pound burger will cost $5.99, with a side and a drink added for another three bucks.
Eftekhar-Asl is confident that those willing to pay more will taste the difference and feel good about supporting local farmers.
"Consumers are aware of ingredients more so now than ever. They are more educated than they ever have been," Eftekhar-Asl said. "There comes a point where the food supply needs to match that."
The beef for Boom-Boom's burgers will come from Polyface Farms, a 500-acre farm in the Shenandoah Valley. The farm was featured in the 2008 film Food, Inc. as an example of a sustainable, local farming operation. The buns will come from a local bakery, the cheese from Northern Virginia, and the pickles and ketchup will be made in house.
Attempting to source only local ingredients poses its own challenges and limitations, Eftekhar-Asl found. For starters, not everything you normally find on a burger grows year-round in Virginia.
"When we open, we are not offering tomatoes, because tomatoes aren't in season," Eftekhar-Asl said.
Eftekhar-Asl said it has been tougher than he thought to achieve his original goal of sourcing 100 percent of the ingredients locally.
"This is my first round working with farmers. As time goes on, we'll hit that mark," he said.
Creating a restaurant from scratch has been a major learning experience for Eftekhar-Asl, who previously worked for Dominion Resources on regulatory issues.
"I had a pretty good exposure to corporate life in the business sense, in an accounting sense and a legal sense. I didn't want to go down any one of those roads," Eftekhar-Asl said.
"What I did was started considering what I valued and what were my strengths and decided entrepreneurship is the way I wanted to go."
Al Harris is a BizSense reporter and covers the restaurant industry.. Please send news tips to [email protected].