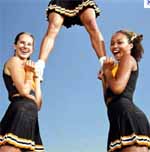 Be aggressive. B-E aggressive.
Virginia Commonwealth University senior Brittany Rose has taken that classic cheerleading mantra to heart, launching her own cheerleading business.
Rose, 22, has a leg up on her classmates: She has been running her company, More Than Cheer, since 2007.
She started the company when she was 19 and had just transferred to VCU from Avila University in Kansas City, Mo., where she received a cheerleading scholarship. The business, which offers cheerleading programs to girls on the recreational, high school, and semi-pro levels, began with Rose teaching private lessons while on VCU's cheerleading team.
"I've always known I didn't want to work at a traditional job," Rose said.
It soon expanded to after-school programs and camps. "Private lessons grew to be too time-consuming, so I expanded to tumbling and after-school programs," Rose said.
The business now has 300 clients, including local schools and recreational centers. More Than Cheer has a staff of more than 10 instructors who teach the company's cheer and dance camps and classes. Each camp averages about 50 girls, and the classes have 10 to 50 participants.
Last month, Rose was one of six finalists at the Global Student Entrepreneur Awards East Coast regional finals, an international competition that recognizes high school and college students who run their own business. She didn't make it out of the regional competition, but Rose says the experience has added to the success of her business.
"A lot of exposure has come from the competition and has gotten me further than if I were to do it on my own," said Rose.
More Than Cheer also manages the Virginia Natives Cheer and Dance Team and the Virginia Hornets Cheerleading Team, a semi-pro Richmond squad that cheers for the Virginia Hornets minor league football team.
Rose's company has a partnership with USA All Stars, a program for competitive cheerleading at five local schools: Shady Grove Elementary, Caver Elementary, Pemberton Elementary, Jackson Davis Elementary and Henrico High School.
"USA All Stars gives us access to their facilities, and in turn we're bringing in more people to their gyms and giving them exposure," Rose said.
With so much positive feedback and support from local recreational facilities, Rose is planning to branch out to other associations.
"We're hoping to do camps for entire recreational leagues, which would bring in 600 girls easily," she said.
Class prices are $40 to $160 for the cheer and dance camps, $40 to $320 for private lessons, and $60 for the after school programs. Rose would not discuss the financial details of her venture but mentioned that profits have more than doubled since she started.
More Than Cheer also offers scholarships for its after school-programs for students from low-income families who have been referred by their schools. More Than Cheer provides free or low-cost cheering lessons depending on needs and funds available.
Rose is a fifth-year student pursuing a double major in entrepreneurship and marketing. And come graduation in May, she already has a job to fall back on.
"I plan to work on my company full time and by next year expand to four markets in Virginia, Maryland, and North Carolina," she said.