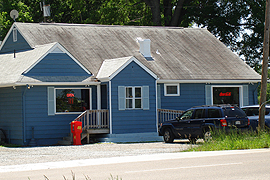 A seafood dive in Centerville, a few miles west of Short Pump, has closed its doors for good. Owner Bobby Dervishian decided to cease operations after the first of the year.
The eastern Goochland County restaurant featured not only an indoor bar and restaurant seating but also a recently completed outdoor tiki bar, complete with several tons of sand, beach chairs and tiki torches, plus an outdoor stage for weekend concerts.
Dervishian addressed his patrons on Summer Shack's Facebook fan page Tuesday afternoon.
"The Summer Shack has closed – Thank you for all of your support," he said. "It has been a great time making new friends and getting to know old friends better. We hope that we are able to find a way to keep up with everyone who has become so special to us, so keep in touch and let us know how you are doing. Stefan and I will be using the Shack [Facebook] page to keep you up to date on our upcoming projects."
Dervishian, a former co-owner of Patina Grill on Lauderdale Drive, has not commented on possible future endeavors.
The building that housed Summer Shack, formerly a part of the adjacent Alley's Motel complex, has been host to several other restaurants, including Fast Eddie's Jukebox Cafe, Bungalow Grill and Diner 250.
No word on what will become of the vacant property.
This story originally appeared at DowntownShortPump.com, an RBS news partner.