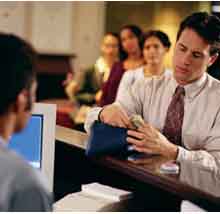 A local bank got caught up in the middle of a dispute between two business partners' and is now on the receiving end of a $1.35 million lawsuit.
A partner in two local media companies allegedly went behind her partner's back and secretly opened bank accounts to funnel money to herself, according to two recently filed lawsuits.
Now the other partner is suing her and the bank that set up the new accounts.
According to the two suits filed recently in Richmond Circuit Court, the story began in 2007, when Clay Hamner and Susan Craven partnered on several local media and marketing businesses, including ACT Media and Conversations Publishing.
They were to work out of the East Cary Street office of Hamner's firm, Lythos Studios.
Craven, who also has her own company called WKH Consulting, was to handle all the finance duties.
Things allegedly went awry in early January 2009, when Craven went by herself to the Gateway Bank branch on Patterson Avenue and Willow Lawn Drive to open a bank account for ACT Media. (Gateway is now part of Norfolk-based Bank of Hampton Roads.)
Hamner claims in the suit that he had no knowledge of what was taking place. The suit claims that the account couldn't be opened without Hamner's social security number and other confidential personal information.
Craven somehow allegedly persuaded the bank's employees to give her Hamner's information and to open the bank account.
Only Craven didn't stop there, the suit claims.
Having allegedly obtained Hamner's personal information, Craven went to the Richmond branch of Consolidated Bank and Trust and opened an account for Conversations Publishing, again without Hamner's knowledge.
"In the several weeks which ensued, having been allowed to open bank accounts without Hamner's knowledge or consent, Craven unilaterally began engaging in a series of unauthorized banking transactions between several entities and herself, ultimately withdrawing thousands of dollars for her own purposes and benefit," says the suit against the Bank of Hampton Roads.
The suit against Craven also claims that she also was moving funds from account to account in order to "obfuscate the tracking of funds."
She also allegedly had the bank statements from those accounts sent to addresses that were out of reach to Hamner.
Hamner's suit against Craven claims her actions caused the businesses to be delinquent in their accounts payable, compromised his personal information, tarnished his business reputation, lowered his credit score and ultimately caused him to suffer financial losses.
Hamner asked the court for a total of $1.35 million in compensatory and punitive damages on several counts of fraud, breach of fiduciary duty, breach of contract and unjust enrichment.
In his suit against Bank of Hampton Roads, Hamner claims the bank, by giving Craven access to his personal information and helping facilitate the alleged damage that followed, committed a breach of fiduciary duty, negligence and breach of contract.
Calls to Hamner's attorney James Kline IV were not returned by press time.
Rick Matthews, an attorney with Pender & Coward who represents Bank of Hampton Roads, said he hasn't seen a copy of the suit and to his knowledge the bank has not yet been served.
A message left at Hamner's office also was not returned.

Michael Schwartz is a BizSense reporter. Please send news tips to [email protected]