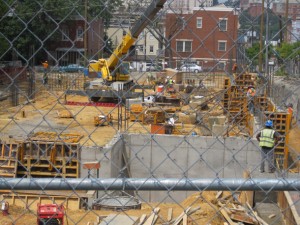 The construction industry is growing in Central Virginia.
Richmond added 1,200 construction jobs in 2010, according to a report from the Associated General Contractors of America.
The construction workforce in Richmond stands at 35,100 as of December 2010, a 4 percent increase from December 2009.
The report examined construction employment in 337 metropolitan areas using data from the Bureau of Labor Statistics. Only 67 metros saw an increase in the number of construction jobs. An economist for AGCA said that severe winter weather in many states is partially to blame for the poor numbers.
Richmond, placing in the Top 40, outperformed the rest of the state. Hampton Roads added 300 jobs for a 3 percent increase in employment. Roanoke lost 300 jobs for a decline of 3 percent, and Northern Virginia lost 5,700 construction jobs for a 9 percent decline.
The metro area that added the most jobs was Columbus, Ohio, with 2,700 jobs. The biggest losses — 10,700 jobs — came in Las Vegas.
You can read the full report here.