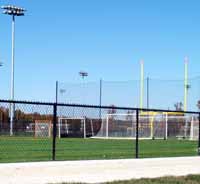 The president and one of the public faces of SportsQuest has resigned after two years on the job, in part because the ambitious project has not progressed as quickly as he had hoped.
"Two years ago, when I signed on, we all envisioned that a facility would be built out by the end of 2011, and it's certainly gone a lot slower than we all hoped," Phil Evans said when reached by phone from his home in South Carolina.
"It was my understanding at the time that by now we would be owning and operating a number of professional sports team as part of the business. That hasn't come to fruition.
"I think there really wasn't a fit for me at SportsQuest."
SportsQuest is a massive sports complex under construction in Chesterfield County that currently consists of turf athletic fields and has plans to add indoor facilities and arenas.  Last year the business launched an arena football team, the Richmond Revolution, which will soon start its second season.
Evans had previously worked for the NBA Development league and brought to SportsQuest a background in law (he attended U-Va. Law) and professional spectator sports.
When Evans was hired in February 2009, he told the Times-Dispatch that his goals included bringing professional hockey and basketball to Chesterfield by 2011. Neither of those materialized.
Evans said that he was working for SportsQuest part-time and that he is working with a few other companies right now that are not in the sports business.  He said that SportsQuest needed him to make an even greater commitment – closer to a full-time basis – but wasn't in the position to "commit to me more than the half-time consulting position I was in."
"I'd love to stay in the industry and be in Virginia," he said. "But unfortunately it didn't work out with SportsQuest."
Steve Burton, the founder and CEO of SportsQuest, said that Evan's position has not been filled.
"All Phil did was focus on some of the professional side, and the reality is, the vast majority of SportsQuest is not impacted," Burton said.
"Right now we've got a huge number of sports directors on staff already, and we are doing a national search for a president," Burton said.
He said SportsQuest is gearing up to start work on the sports, aquatic and fitness center, which he plans to have operational by the end of the year. Burton also hopes to start work in September on a residential component that will house athletes in training.
Aaron Kremer is the BizSense editor. Al Harris contributed to this report.