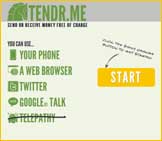 A new local startup hopes to cash in on making it easier and cheaper for people to exchange money online.

Abe Gillespie, 33, says he is close to raising the investment capital he needs to go live with the web service he's been developing for the past year. He said it will take between $60,000 and $100,000 to launch, and that he is close to an agreement with one group of investors.
Gillespie's service, called Tendr.me, allows users to send and receive money that they have deposited from their checking account into their personal Tendr.me account.
"Once you have cash in your account you can send it to anyone you like," Gillespie said.
Users can send money to other users by entering the counterparty's name, the amount and a description of what the payment is for into the website's dashboard. Users can also request money from a user. They can also use Google Talk or Twitter, and he eventually plans to add iPhone and Android apps as well.
Users can also send money to people who aren't signed up for the service yet, using their email address. That person will have to create an account to accept the payment. Gillespie said that this option will help the service spread and grow in users—one of the toughest hurdles for his young startup.
"Adoption is going to be the biggest challenge," Gillespie said.
Gillespie estimated the service would need at least 10,000 users before it is profitable.
The service is completely free, except for when you want to transfer money from your Tendr.me account back into your checking account. He hasn't settled on a fee but is aiming at something between 1.75 percent and 2 percent of the amount transferred.
He hopes this will appeal to merchants, who have to cough up between 2.5 percent and 3 percent of their profits if they process Visa payments. PayPal, a popular online payment service, charges 2.9 percent plus 30 cents for each transaction.
"What is cool about this is that it competes with Visa, and there is no need for a card reader and it is cheaper than Visa," Gillespie said.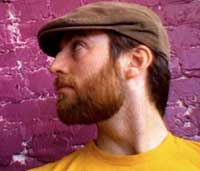 Gillespie said it would appeal to certain business like food cart vendors or coffees shops, where credit card transactions are a painful cost that eats away at margins.
"I think merchants will drive adoption. If a merchant does convert as an alternative to credit cards, they could put up a plaque that says they accept Tendr.me," Gillespie said.
Once the company is funded, Gilliespie said he would like to hire a few more developers. So far he has one web developer who is working for equity in the company.
"Once we get rolling [the web developer] will own about a five percent share," Gillespie said.
Gillespie has also been paying for graphic design work out of his own pocket.
Once things do get rolling, Tendr.me will face plenty of competition from other startups in the same arena.  For instance, Gillespie came up with the idea after coming across a company called Square Up that produces a credit card reader that plugs into the headphone jack of your cell phone.
"I thought that was pretty cool, but thought, 'Why can't you go a step further and get rid of the card, and get rid of the hardware?'"
Then there is TwitPay, which allows people to exchange money using Twitter.
"The problem with TwitPay is it integrates with PayPal, which I don't like," he said.
Another competitor, which launched recently, is Philadelphia-based Venmo, the one most similar to Tendr.me.
Gillespie, who has been developing software for 15 years, is undeterred by the expanding field of competitors and continues to work diligently to get his project out of the gates.
The Virginia Beach-native graduated from Virginia Tech and moved to Richmond several years ago for a job that he quickly quit.
"I'm not the type of person that likes to sit in an office and work for another guy," Gillespie said.
Instead he has since worked as an independent mapping consultant; but not for much longer.
"Once funding happens, I've got one consulting gig to wrap up."