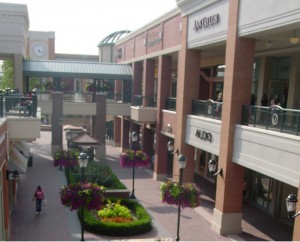 For the most part, Richmond shoppers aren't pinching pennies as tightly as they were during the darker days of 2008 and 2009. And they're spending more on new clothing and eating out.
Area retail sales continued to decline last year, but just barely. Taxable sales for 2010, as reported by the Virginia Department of Taxation, totaled $10.2 billion between Richmond City, Henrico County and Chesterfield County, down 1 percent from 2009.
Year-end results varied among the three localities. Sales decreased in Richmond almost 9 percent in 2010, increased 1.8 percent in Henrico and increased one-half a percent in Chesterfield. In addition to traditional retail, the taxable sales figures also include data from manufacturing and wholesale businesses.
Although the decline might indicate that sales for many merchants last year were still sluggish, the worst has most likely passed. In 2009, sales fell 5.8 percent from the year before.
Overall, area sales volume has fallen $900 million since the recession began. The last increase was in 2007, when sales grew 3.97 percent above the previous year for a total of $11.1 billion.
Nancy Thomas, president and CEO of the Retail Merchants Association, said in her view 2010 was a little better for most retailers than the previous couple of years.
"One reason is the consumer is feeling a little bit better. They were more upbeat last year, particularly during the holiday shopping season," Thomas said.
According to a tracking survey done by the RMA, 83 percent of respondents reported holiday sales in 2010 were better than 2009, 11 percent reported sales as flat, and six percent lost sales. About 40 retailers participated in the survey.
"We were very pleased obviously with those results," Thomas said. "Some retailers were up in the double digits, and some will retain the holiday seasonal help they hired."
In another positive sign, Thomas said several retailers have opened additional locations, including Crazy Greek restaurant and La Difference.
"It seems a lot of retailers are taking advantage of inexpensive real estate," Thomas said.
The state tax data show that local consumers have begun to spend more on specific items such as clothing, furniture and building supplies than they had during the past several quarters.
At the same time, they started spending slightly less on general merchandise items and groceries.
Sales at clothing stores increased more than 2 percent in 2010 compared with 2009. Furniture sales increased 4.4 percent, and sales at building supply and home and garden stores increased 6.75 percent over the previous year.
Meanwhile general merchandise stores (such as Target or Family Dollar) and food and beverage stores saw sales shrink by just less than 1 percent.
That could be a result of increased competition, according to David Urban, professor of marketing at the VCU School of Business.
"There is certainly a lot of competition as far as the grocery business is concerned," Urban said. "The level of competition in this area is more intense than it has ever been."
Urban said that food prices on the whole are looking to rise in 2011.
Growth in more specific categories, such as furniture sales, is a good sign the economy is starting to improve, Urban said.
"Furniture is one of those things that when it starts turning around, it is a strong indicator that retail is improving in general," Urban said.
Another segment Urban expects to pick up in 2011 is restaurants.
"I was just talking to a friend who is an attorney who has a lot of restaurant clients. What he was telling me is that all of his restaurant clients, including the high end restaurants, are all reporting that things are looking up considerably," Urban said.
Restaurant receipts totaled $1.18 billion in 2010, a 5.7 percent increase over the previous year.
AnnMarie Grohs, sales and marketing manager for Morton's steakhouse in Shockoe Slip, said the restaurant had a great holiday season and saw sales increase for the year.
"Food sales were way up in the bar, that is one of the things we saw take a little hit through 2008 and 2009," Grohs said.
Wine sales are up, too.
"Some of that stuff that seemed like a luxury seem to be back to being day-to-day things now, which is awesome," she said.