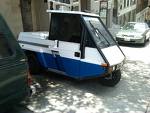 Either Richmond's yellow-jacketed parking enforcement officers are getting more vigilant or city drivers are forgetting to move their parked cars around the block.
Whatever the case, the city took in 30 percent more in parking ticket fines in 2010 compared with the year before, according to data requested from the city.  That is an increase of just over $1 million for a total of $4.34 million. Revenue collected from tickets in 2009 was $3.31 million.
In 2010, 128,042 tickets were written, compared with 119,866 in 2009.
March was the busiest month for parking enforcers last year, with 15,107 tickets written. December was the slowest, with 8,583 citations written.
Although parking ticket revenue is going up, the city is getting it done with fewer people.
The city has a contract with Lanier Parking Services to enforce parking. The company has 24 full- and part-time enforcers working the beat, six fewer than this time last year.
The company receives 3 percent of issued fines and 3 percent of meter collections. Meter collections totaled $775,493 last year.