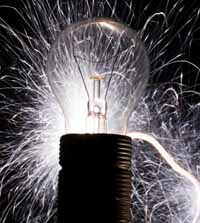 Dog harness
Patent 7,891,322
A dog harness is comprised of a torso strap positioned across the lower shoulders of a dog, connected to a chest strap passing around the chest of a dog, and a shoulder strap passing over the back of a dog. The chest strap is provided with a limited slip loop. A leash connector is fixed to the limited slip loop. When a leash is attached to the leash connector, a directional pull on the leash causes the leash connector to slide in the direction of the pull, pulling the limited slip loop to the side and moving the pull off the center of the dog's chest, thus decreasing the opposition reflex.
Inventors:  Sharon Bennett (Midlothian); Charles Mann (Marine-on-St.-Croix, Minn.); Robert Anderson (Falcon Heights, Minn.)
Assignee: Premier Pet Products LLC (Midlothian)
Feb. 22, 2011
Kettle
Patent D633,324
This is an initial filing for a patent that claims the ornamental design for a kettle.
{openx:19}
Inventors: Dean Mondragon (Rocky Face, Ga.); Cyan Godfrey (Chapel Hill, N.C.); Mike Page (Coral Gables, Fla.); Margaret Butler (Raleigh, N.C.); Mark Romandy (Midlothian)
Assignee: Hamilton Beach Brands Inc (Glen Allen)
March 1, 2011
System for opening an article encasement
Patent 7,891,100
A system for opening encased articles has a cutting apparatus that includes a channel formed from spaced-apart parallel walls. A cutting member having a cutting edge extends from one wall into the channel. A protrusion disposed in the channel at least partially overlaps and at least partially obstructs the cutting member. The channel is adapted for receiving the flanged edge of the article and the protrusion is displaceable to expose the cutting edge of the cutting member. A system further has the cutting apparatus juxtaposed with a container for storing at least one encased article.
Inventors: John Gelardi (Kennebunkport, Maine); William Rigby (Midlothian)
Assignee: MeadWestvaco Corp. (Richmond)
Feb. 2, 2011
Process for the preparation of polyalkenyl succinic anhydrides
Patent 7,897,696
A polyalkenyl succinic anhydride is prepared with low amounts of resinous or chlorinated byproducts in a two-step process whereby a polyalkene is first reacted with an unsaturated organic acid in a thermal ene reaction, followed with exposure to a gaseous halogen in presence of an additional amount of the unsaturated organic acidic reagent. The foregoing process produces a polyisobutenyl succinic anhydride having a high ratio of succinic anhydride functional groups to polyisobutenyl backbone groups. Such a polyisobutenyl succinic anhydride is particular suitable for the production of oil-soluble hydrocarbyl succinimides that have good dispersant properties when added to lubricating oil compositions.
Inventors: Chente Huang (Midlothian); John Loper (Richmond)
Assignee: Afton Chemical Corp. (Richmond)
March 1, 2011
Additives and lubricant formulations for improved antioxidant properties
Patent 7,897,552
A lubricating oil composition, additive concentrate, method of lubricating moving parts, a method of improving the oxidation stability of a lubricant formulation. The lubricating oil composition includes a base oil, a hydrocarbon soluble molybdenum compound, and an antioxidant effective amount of one or more polymeric compounds devoid of ester linkages. The polymeric compound may be represented by of the formula: ##STR00001## wherein R and R.sup.1 are independently selected from C.sub.1 to C.sub.12 hydrocarbyl groups, n is an integer ranging from about 0 to about 10; and A is a hydrocarbyl group having from about 1 to about 30 carbon atoms.
Inventors: JoRuetta Ellington (Moseley, Va.); John Loper (Richmond); Naresh Mathur (Midlothian)
Assignee: Afton Chemical Corp. (Richmond)
March 1, 2011
Additives and lubricant formulations for improved antiwear properties
Patent 7,897,548
A lubricated surface, a method for reducing wear between moving parts, and lubricants, and lubricant additive concentrates containing a wear reducing agent. The lubricated surface contains a base oil of lubricating viscosity, a hydrocarbon soluble titanium compound, a metal-free friction modifier and an amount of at least one hydrocarbon soluble magnesium compound effective to provide a reduction in surface wear greater than a reduction surface wear for a lubricant composition devoid of the titanium compound, metal-free friction modifier, and magnesium compound. The lubricant composition contains no more than about 800 ppm phosphorus and is devoid of calcium detergents and organic molybdenum compound.
Inventors: William Lam (Glen Allen); Mark Devlin (Richmond)
Assignee: Afton Chemical Corp. (Richmond)
March 1, 2011
Method of forming a filter component
Patent 7,896,011
A method of forming a filter for a smoking article which includes exposing cellulose acetate fibers to an electron beam process, wherein electron beam process deacetylates the cellulose acetate fibers to render the cellulose acetate fibers water-permeable; and forming a cellulose acetate rod from a tow of the cellulose acetate fibers. Filter plugs of the cellulose acetate fibers are water-permeable and allow discarded filtered smoking articles to rapidly degrade and expose the components to the environment.
Inventors: Harvey Grubbs (Louisa); Susan Freelin (Richmond)
Assignee: Philip Morris USA Inc. (Richmond)
March 1, 2011

Carboxylic acid amides provoking a cooling sensation
Patent 7,893,110
The present invention refers to cooling compounds of formula I ##STR00001## wherein R1, R2, R3, X, Y, Z, and m have the same meaning as given in the specification. The present invention refers furthermore to a process for their production and to product compositions comprising them.
Inventors: Christophe Galopin (Chesterfield); Stefan Furrer (Cincinnati, Ohio); Lori Tigani (Salisbury, Md.); Jay Slack (Loveland, Ohio); Pablo Krawec (Cincinnati); Lucienne Cole (Cincinnati)
Assignee: Givaudan S.A. (Vemier, Switzerland)
Feb. 22, 2011
Oxylipins from stearidonic acid and .gamma.-linolenic acid and methods of making and using the same
Patent 7,893,106
Disclosed are novel oxylipins that are derived from .gamma.-linolenic acid (GLA; 18:3n-6) and stearidonic acid (STA or SDA; 18:4n-3), and methods of making and using such oxylipins. Also disclosed is the use of such oxylipins in therapeutic and nutritional or cosmetic applications, and particularly as anti-inflammatory or anti-neurodegenerative compounds. Also disclosed are The invention novel ways of producing long chain polyunsaturated acid (LCPUFA)-rich oils and compositions that contain enhanced and effective amounts of SDA- and/or GLA-derived oxylipins.
Inventors: Linda Arterburn (Ellicott City, Md.); William Barclay (Boulder, Colo.); Bindi Dangi (Elkridge, Md.); James Flatt (Colorado Springs, Colo.); Jung Lee (McLean, Va.); Dutt Vinjamoori (Chesterfield)
Assignee: Martek Biosciences Corp. (Columbia, Md.)
Feb. 22, 2011
Security articles
Patent RE42,188
This invention provides security articles comprising fibers, threads and fiber sections ("dots") possessing multiple verification characteristics. The fibers possess unique and difficulty duplicated combinations of complex cross-sections, components, and multiple luminescent responses. The many verifiable characteristics of the security fibers, threads and dots provide high levels of protection against fraudulent duplication of articles in which they are incorporated. The manifold security features provide means of tailoring specific identity characteristics for specific use and users.
Inventors: Thomas Y-T. Tam (Chesterfield); Alfred Siggel (Hanover, Germany); Samir Abdalla (San Diego, Calif.); Jiunn-Yow Chen (Apex, N.C.); Thomas Potrawa (Seelze, Germany); Huy Nguyen (Midlothian); Sheldon Kavesh (Whippany, N.J.); Alexander Lobovsky (Westfield, N.J.)
Assignee: Honeywell International Inc. (Morristown, N.J.)
March 1, 2011
RJ modular connector
Patent 7,896,681
An RJ modular connector is provided that has wire channels that slope downward and end at openings in the bottom of the connector through which the stripped wires extend. In use, the outer jacket insulation is removed from an end portion of the cable, leaving lengths of exposed wires. The length of the exposed wire is unimportant. The wires are arranged in an essentially flat configuration and inserted longitudinally into the connector and then directed downward by the downward slope of the channels, so that the distal ends of the respective wires extend through the bottom of the connector. The protruding wire ends are then compared with a standard to confirm the correct color identification pattern for them and corresponding wire position. After the comparison is made, the protruding wire ends are crimped/secured and sheared off. Conductive contact blades are inserted, and pierce the wires.
Inventors: Michael Stephens (Glen Allen); Kyle Dean Hedrick (Midlothian)
Assignee: Greenlee Textron Inc. (Rockford, Ill.)
March 1, 2011  

Michael Schwartz is a BizSense reporter. Please send news tips to [email protected]