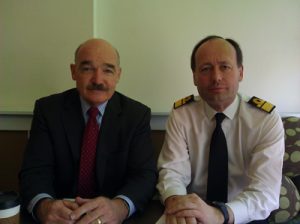 Two admirals have landed in Richmond with a message for the Governor Bob McDonnell and the states' lawmakers.
Go green or else.
For the last year and half or so, Retired Vice Admiral Dennis McGinn and British Rear Admiral Neil Morisetti have been making the rounds in various states to stress the national security implications of fossil fuel dependence and climate change.
The admirals visited with Virginia officials yesterday, including Secretary of Natural Resources Doug Domenech, to urge the state to take a more proactive approach when it comes to developing alternative fuels and power sources, energy efficiency, and controlling greenhouse gas emissions.
"Those who wish to do us harm will exploit our vulnerabilities, one of which is our over reliance of fossil fuel," McGinn told BizSense in advance of his meeting with state officials.
McGinn, who serves on the Military Advisory Board for Virgina-based think-tank CNA, said the current spike in oil due to crises in the Middle East and North Africa is just the latest example of our need to accelerate efforts to develop alternative transportation options such as bio-based fuels, electrical vehicles and mass transit.
"We can't delude ourselves into thinking that we can produce enough oil in the U.S.," McGinn said.
McGinn said in the worst cast scenario oil may hit $200 a barrel within five years, making the need for change urgent.
Morisetti, who is an active duty officer serving at the U.K.'s climate and energy security envoy, said he is joining McGinn to provide his country's perspective on matters where security and energy intersect.
"We were in Washington yesterday and I saw where petrol was selling for $4.34 a gallon. It's not the $10 a gallon I pay, but it's the jump in prices that gets people," Morisetti said.
"Let's not kill ourselves getting away from petrol, but we need a portfolio of sources," he said.
Governor Bob McDonnell has proclaimed his desire to make Virginia the energy capital of the East Coast by developing all available sources. McDonnell has made aggressively pursuing offshore drilling rights a part of that effort.
McGinn said that should have no more priority than other parts of the administration's energy efforts.
"Offshore drilling is a short term solution. It takes a tremendous amount of time and effort, and you also incur a risk," McGinn said. "What is and how long is the benefit? And is the revenue from fees offset by any threat to tourism if something goes wrong?"
"We need a policy from Richmond and the state of Virginia that creates market certainty for entrepreneurs out their with good ideas so the billions of dollars of investment capital that is sitting on the sidelines can be employed to scale up the technology is out there," McGinn said.