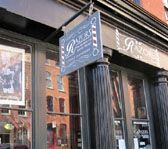 A Shockoe Bottom barbershop closed last week although it liked its location and wanted to stay in business.

Razors, a high-end barbershop and men's spa on Cary Street between 12th and 13th streets, closed early last week after its lease with a new landlord was not extended. The business opened in 2006.

Chanti Lowenberg, the manager at Razors, said that the new landlord – Tobacco Company restaurateur Jerry Cable – did not want to extend a lease to the business.
"He is not re-signing anyone on that block," Lowenberg said.
"He is going to close all the places down. He wants to open a high-end retail shop like Saks Fifth Avenue."
BizSense was unable to reach Cable, whose assistant said he was traveling through the middle of this week.
Cable bought the building that housed Razors at a foreclosure auction in December. (You can read more about that in an RBS story here.) Union First Market Bank had taken it back from disgraced developer Justin French.
In a February Times-Dispatch article, Cable said that he wants to restore the area and that it's "an upscale shopping area in the middle of the financial district."

Aaron Kremer is the BizSense editor. Please send news tips to [email protected]