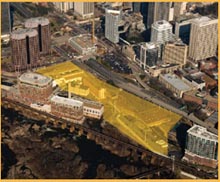 Last February, Fountainhead Development and the WVS Companies announced that they were joining forces to develop the former Reynolds property downtown — a six-acre swath that some say is the key to bringing the decades-long dream of a vibrant Canal Walk to fruition.
The developers are mum on the purchase price and project costs, but BizSense caught up with Fountainhead principal Rick Gregory for an update.
Below is an edited transcript.

Richmond BizSense: What is the latest on the Reynolds redevelopment project? Why hasn't it started yet?
Rick Gregory: We are still waiting for HUD approval. Should be any day now. Hopefully we will get started building in May. With the bad economy, HUD has been the only game in town for this kind of project.
RBS: Why has it taken so long?

RG: It has taken 150 percent longer than normal due to their workload.
RBS: Has the size or scope of the project changed since it was conceived?
RG: No, it hasn't changed. Phase 1 is still 230 apartments.
RBS: What about the commercial space?
RG: We have been working with several local restaurateurs to put restaurants in the buildings and activate the canal. For the first phase, we are looking to put in two.
RBS: Is Fountainhead working on any other projects?
RG: Just recently we have been developing more adult daycare centers Riverside PACE. MISSING SOMETHING? We opened one up in Scott's Addition, which is the second one in Richmond. We are going to start construction on one in Petersburg, and then Newport News.
The first one in Manchester is doing great and is fully occupied; it shows a huge need for this type of service. The new one in Scott's Addition is in the old commonwealth roller skating rink. It has the full amount of services of a nursing home — you don't just stay there. It's designed for socializing physical therapy, controlling medication, and has full doctors on site.
RBS: We wrote about New Manchester Flats back in June 2009. How has that project fared?
RG: We just opened up additional 77 units. The first 100 units leased up in four months. These new 77 units have been on the market for two months, and we are a third of the way through on those. We opened up 35 artist studios and are halfway leased on those.
There will probably be a final phase of new construction of 90 apartments, bringing the total to 250.
RBS: It seems in the past year or two that the pipeline for apartment projects in Richmond has been nonstop. Do you think it can continue for much longer?
RG: The Richmond population used to be declining, with everyone moving to the suburbs. The past two censuses have shown an increase in population, so we've turned that curve. With the way the economy is and gas prices are and the fact that the city is having more lifestyle things downtown, the demand for apartments is just going great.