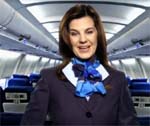 The RBS newsroom has been trying today to figure out why the actress in a promotional spot for a Chamber of Commerce campaign looked so familiar.
We think we figured it out.
We're pretty sure this is the same actress from a series of ads that ran in 2010 for Union First Market Bank.
Below are the two spots. Is it the same woman?
[youtube]http://www.youtube.com/watch?v=cky2wXaYCy8[/youtube]
The second spot for the bank:
[youtube]http://www.youtube.com/watch?v=k1slKnTzYmc[/youtube]