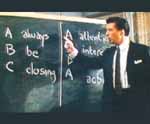 Welcome to DealFlow, a new monthly BizSense data section tracking all the recent deals (IPOs, M&A or capital raises) that local firms — investment banks, private equity, venture capital, etc. — had a hand in. DealFlow also highlights local businesses that have raised capital on their own or been party to a merger or acquisition.
To make sure your deal is included in the monthly round-up, email [email protected]
SnagAJob
SnagAJob.com secured $27 million in new capital from August Capital, a Silicon Valley-based venture capital firm. The Innsbrook-based company said it will use the money to expand its product portfolio, its marketing efforts and increase the size of its sales team. As part of the deal, August Capital's Eric Carlborg will take a seat on the SnagAJob board of directors.
Transaction date: March 10

Harris Williams & Co.
Harris Williams & Co. was the M&A advisor to the TriZetto Group on its acquisition of Gateway EDI, a web-based revenue cycle management solutions to U.S. healthcare providers. TriZetto is a portfolio company of Apax Partners, a $40 billion private equity group. The transaction was led by Jeff Bistrong, Sam Hendler, Tyler Dewing and Nick Patel from Harris Williams & Co.'s Technology, Telecom & Digital Media Group in Boston.
The value of the transaction was not disclosed.
Transaction date: Feb. 21
Harris Williams advised BI Inc. on its merger with The GEO Group. Both firms are in the corrections technology business, providing services to prison systems. Chris Williams from Harris Williams' Richmond office led the deal. Jim Reinhart, Vince Carey, and Matt Conaty from the firm's San Francisco office were also involved.
Transaction value: $415 million
Transaction date: Feb. 10
Code X Inc.
The local firm, also known as CXI, sold itself to Brazil-based Stefanini IT Solutions Group. CXI will be a wholly-owned subsidiary of the privately-held Stefanini.
CXI Chairman and CEO Ranjit Sen will remain president and COO.
Transaction value: not disclosed
Transaction date: Feb. 28, 2011
James River Coal Co.
The Richmond-based coal company said it will acquire West Virginia-based International Resource Partners LP and Logan & Kanawha Coal Company LLC in an all cash transaction.  JRCC will acquire IRP/L&K free of debt.  JRCC has secured $375 million in committed financing from Deutsche Bank and UBS Investment Bank. Deutsche Bank acted as financial advisor to JRCC. UBS acted as financial advisor to IRP.
Transaction value: $475 million
Transaction date: expected to close in the first half of 2011
BB&T Capital Markets

BB&T Capital Markets served as co-manager of Triangle Capital Corp.'s offering of 3.45 million shares at $19.25 per share. Jacob Savage, Daniel Pake, David Wojdyla, Alexander Spotts and Timothy Bechtold of BB&TCM's Financial Services Group worked the deal.
Transaction value: $66.41 million
Transaction date: Feb. 16
BB&TCM's Windsor Group served as the exclusive financial advisor to Raleigh, N.C.-based Technology Assisted Learning's sale to Quebec-based CAE Inc. John Hagan, Greg Van Beuren, Greg Woodford, Jon Clark, Jason Kaufman, Lee Priest, Norm Bishop, Sam Maness and Greg Nossaman of Windsor Group's Aerospace, Defesen and Government Services Group worked the deal.
Transaction value: not disclosed.
Transaction date: March 7
BB&TCM served as a co-manager for Family Dollar Stores on its issuance of senior notes.
Transaction value: $300 million
Transaction date: Jan. 25
BB&TCM served as a lead manager on a senior notes offering by BB&T Corp. Deutsche Bank served as the other lead manager.
Transaction value: $1 billion
Transaction date: Feb. 28
Ryder Systems held a debt offering co-managed by BB&TCM.
Transaction value: $350 million
Transaction date: Feb. 16
The Town of Oak Island, N.C. hired BB&TCM to manage its bond offering for a wastewater collections system.
Transaction value: $10.67 million
Transaction date: Feb. 3
Hanover County hired BB&TCM to serve as senior manager for a bond offering were issued to finance capital improvements and refinance existing obligations to produce debt service savings.
Transaction value: $17.84 million
Transaction date: Feb. 2
Michael Schwartz is a BizSense reporter. Please send news tips to [email protected]