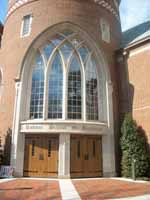 After a year and a half of attending class in a construction zone, business students at the University of Richmond can now saunter across open walkways to a much-improved business school.
Queally Hall, a 37,000-square-foot expansion to UR's Robins School of Business, opened in January.
UR held a media tour this week, and Nancy Bagranoff, the dean of the business school, showed off the new facility.
"We had a very nice facility, and the quality of education here is at the highest level and now we have a facility to match that," Bagranoff said.
For starters, there's a new mock-trading floor, where students can meet and research stocks as if they were working on Wall Street. That is the new home of the student-managed investment fund team, Bagranoff said.
"We focus on three areas: experiential learning to form the students not just in the classroom, a global perspective and professional skills, because business is a profession and it's getting them ready for their careers," Bagranoff said.

Nick Dechaello, a junior finance major from Connecticut, said that the school's professional skills and development office would i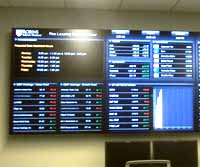 mprove resources already available to students.
"It will supplement the work the career development center does. It will provide a prime location for undergraduate students to have the resources to work toward their careers," Dechaello said.
The business school's professors are also enjoying the new digs.
KimMarie McGoldrick, a professor in the economics department, said the addition has given students incentive to stay on campus.
"I think the space here has motivated them to stay more and talk outside the classroom," said McGoldrick. "They have all these opportunities that they didn't have before."
In November 2007, Paul Queally and wife Anne-Marie Flinn – 1986 UR graduates – donated $6 million toward the construction of the facility that bears their name.
Construction for the new center took about a year and half. The architect for the project was Worley Associates. Taylor and Parrish Construction was the contractor.